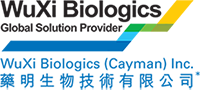 (Incorporated in the Cayman Islands with limited liability)
* for identification purpose only
---
Corporate Profile

WUXI BIOLOGICS (CAYMAN) INC. ("WUXI BIOLOGICS" or the "Company"), is a global leading biologics services provider that offers comprehensive, integrated and highly customizable services through its teams of scientists, proprietary technology platform and know-how, state-of-the-art laboratories, and cGMP-compliant manufacturing facilities to pharmaceutical and biotechnology companies.
The company is the only open-access biologics technology platform in the world offering end-to-end solutions, empowering anyone to discover, develop and manufacture biologics from concept to commercial manufacturing. Its business model is built upon a "follow the molecule" strategy, whereby customers' demand for the company's services increases as their biologics advance through development and ultimately to commercialization, which allows its revenue from each integrated project to grow as the project advances.
Headquartered in Wuxi, Jiangsu, China with three operation sites located in Wuxi, Shanghai and Suzhou, respectively, WuXi Biologics is the dominant leader in China's biologics services market with 63.5% market share in terms of revenue in 2017 and also held leading market positions globally. To date, the company has worked with 13 out of the 20 largest pharmaceuticals companies in the world, including renowned industry players such as AstraZeneca and Genentech.
WuXi Biologics: Transforming and accelerating pharmaceutical discovery, development and manufacturing in the fast growing field of biologics to benefit patients worldwide.
updated 10th October, 2018
---
---
© Copyright 1996-2023 irasia.com Ltd. All rights reserved.
DISCLAIMER: irasia.com Ltd makes no guarantee as to the accuracy or completeness of any information provided on this website. Under no circumstances shall irasia.com Ltd be liable for damages resulting from the use of the information provided on this website.
TRADEMARK & COPYRIGHT: All intellectual property rights subsisting in the contents of this website belong to irasia.com Ltd or have been lawfully licensed to irasia.com Ltd for use on this website. All rights under applicable laws are hereby reserved. Reproduction of this website in whole or in part without the express written permission of irasia.com Ltd is strictly prohibited.
TERMS OF USE: Please read the Terms of Use governing the use of our website.