Swire Pacific Limited
---
| | |
| --- | --- |
| For Immediate Release | 24 October 2023 |
Rosewood Hong Kong and The Upper House Jointly Celebrate Top 5 Global Hotel Recognition
24 October 2023, Hong Kong - Rosewood Hong Kong and The Upper House hosted an event this evening to celebrate both hotels being recognised in the top five best hotels in the world by the inaugural World's 50 Best Hotels list. This recognition reflects the city's homegrown talent and reaffirms Hong Kong as a world-class destination and a leader in the global hospitality industry. The celebratory event was held at the Hong Kong Palace Museum, and was attended by Mr Kevin Yeung, Secretary for Culture, Sports and Tourism as Guest of Honour and some 150 guests from public, hospitality, tourism and media sectors.
Mr Kevin Yeung commended Rosewood Hong Kong and The Upper House for showcasing Hong Kong's vibrant culture and hospitality to the world. He said, "Having two hotels from Hong Kong not just on the list but top on the list speaks volume of the professionalism of our hospitality industry. I would like to take this opportunity to express my appreciation for the entire hotel industry, it is all your dedicated efforts which make our hotel industry strong, and your passion and commitment which contribute to Hong Kong's success."
"This honour is testament to the hard work and unwavering dedication of our teams in curating extraordinary experiences for our guests. Hong Kong has many undiscovered talents, who the industry must engage and galvanise to reinvigorate the city's reputation as a vibrant, world-leading tourist destination and international cultural hub. Through our initiatives such as Rosewood Bridges Internships, we are offering homegrown talent unparalleled opportunities to grow and thrive, building a strong pipeline of talent for Hong Kong's hospitality sector," said Ms. Sonia Cheng, Chief Executive Officer of Rosewood Hotel Group.
"We are all immensely proud of The Upper House. What makes The Upper House truly a rare gem is the incredible team of young professionals who are passionate about delivering an unscripted guest experience," said Mr. Tim Blackburn, Chief Executive of Swire Properties and Chairman of Swire Hotels. "The reopening of the borders provided a vital boost to the industry this year, and we're encouraged by the concerted efforts of the Government and Hong Kong Tourism Board to develop exciting campaigns and host mega events, which are attracting a global audience. We will continue to look for new ways to engage our guests and introduce new, memorable experiences."
The highly anticipated list identifies the world's finest luxury hotels based on votes from over 580 travel industry experts. The list includes industry-defining hotels from 35 different locations across six continents. Both Rosewood Hong Kong and The Upper House are the only Hong Kong hotels to be placed on the list. The full list of the 2023 World's 50 Best Hotels can be found here.
###
Photo Captions
Please download the images at this link: https://shorturl.at/bdyL1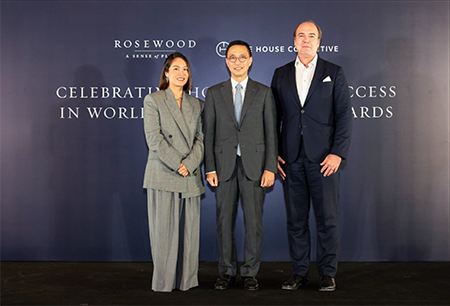 1. Mr Kevin Yeung, Secretary for Culture, Sports and Tourism (centre) attended the celebratory event with Ms Sonia Cheng, CEO of Rosewood Hotel Group (left) and Mr Tim Blackburn, Chief Executive of Swire Properties and Chairman of Swire Hotels (right).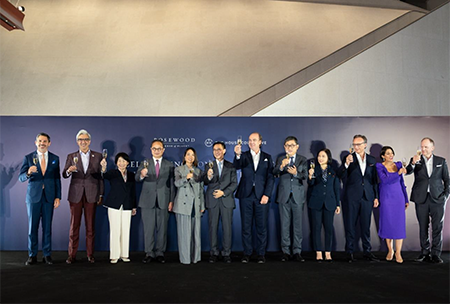 2. Secretary Yeung (left 6), Mr Joe Wong, Permanent Secretary for Culture, Sports and Tourism (left 4), Ms Vivian Sum, Commissioner for Tourism (left 3) and Mr Dane Cheng, Executive Director of HK Tourism Board (right 5), Mrs Betty Fung, Chief Executive Officer at the West Kowloon Cultural District Authority (right 4), raising a toast with Ms Cheng (left 5), Mr Blackburn (right 6), and Mr Toby Smith, Deputy Chairman for Swire Hotels (right 3), Mr Dean Winter, Managing Director for Swire Hotels (right 1), Ms Kristina Snaith-Lense, General Manager for The Upper House (right 2), Mr Hoss Vetry, Vice President of Operations for APAC at the Rosewood Hotel Group (left 2), and Mr Hugo Montanari, Managing Director for the Rosewood Hong Kong (left 1) during the event.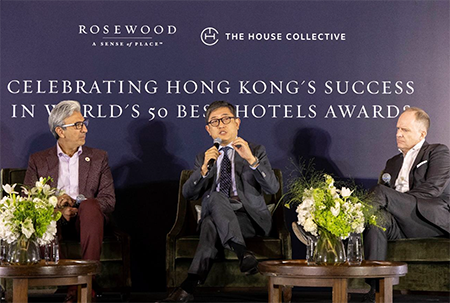 3. Mr Dean Winter, Managing Director of Swire Hotels (right), Mr Dane Cheng, Executive Director of HK Tourism Board (centre), and Mr Hoss Vetry, Vice President of Operations APAC at the Rosewood Hotel Group (left) discussed the future of Hong Kong's hospitality industry during a fireside chat session.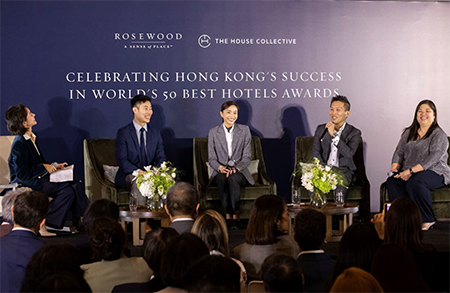 4. Four associates from Rosewood Hong Kong and The Upper House reflected on their experiences in contributing to the success of the two hotels.


About The World's 50 Best Hotels
Following the success of The World's 50 Best Restaurants and The World's 50 Best Bars, 50 Best launched The World's 50 Best Hotels in 2023, marking the brand's first global launch since 2009. The World's 50 Best Hotels list is created by The World's 50 Best Hotels Academy, an influential group of more than 580 independent leaders, each selected for their expert opinion of the international hotel scene.
About Rosewood Hong Kong
The 413-room Rosewood Hong Kong is located at a prime Victoria Harbour waterfront location at the former New World Centre on Salisbury Road in Tsim Sha Tsui. The ultra-luxury hotel occupies 43 floors of the multi-use Rosewood Tower, a new landmark on the world-famous skyline. Eleven restaurants and lounges are complemented by recreational facilities including Asaya, Rosewood's holistic wellness concept. The Manor Club executive lounge provides exclusive privileges while The Pavilion, the brand's signature residential-style meeting and function space, hosts corporate events, conferences and social celebrations. The 186 luxury Rosewood Residences has been designed for residents electing short and longer stay rentals, with a dedicated private club, along with special services and dedicated amenities.
For more information: rosewoodhotels.com/hongkong
About Rosewood Hotels & Resorts
Rosewood Hotels & Resorts manages a global collection of 31 one-of-a-kind luxury hotels, resorts, and residences in 18 countries. Each Rosewood property embraces the brand's A Sense of Place® philosophy to reflect the individual location's history, culture, and sensibilities. The Rosewood collection includes some of the world's most legendary hotels and resorts, including The Carlyle, A Rosewood Hotel in New York, Rosewood Mansion on Turtle Creek in Dallas, and Hôtel de Crillon, A Rosewood Hotel in Paris, as well as new classics such as Rosewood Hong Kong and Rosewood São Paulo. For those who wish to stay a little longer, Rosewood Residences offer a distinct opportunity for the ownership or rental of properties co-located with a Rosewood hotel or resort and of standalone for-sale residences. Rosewood Residences are defined by the brand's commitment to Enriched Living through thoughtful details and experiences that enhance the quality of life while evoking a sense of discovery and inspiration.
For more information: rosewoodhotels.com
About The House Collective
The House Collective by Swire Hotels is a group of refined, highly individual properties that defy comparison. Each uniquely imagined, The Opposite House in Beijing, The Upper House in Hong Kong, The Temple House in Chengdu and The Middle House in Shanghai were designed for seasoned travellers who seek a different, intimate and personalised experience in luxury travel. Each House is a sophisticated, singular piece of design, created by talented architects and designers, that reflect the unique qualities of their surroundings.
About The Upper House
Designed by award-winning architect André Fu, The Upper House, Hong Kong, is highly individualised and provides a sense of understated luxury. The House offers 117 rooms, all featuring scenic harbour or island views, including 21 suites, a Penthouse and André Fu Suite, and begin at 730 sqft - the largest in Hong Kong. Named to symbolise an 'upward journey' to a retreat above the bustling city, natural materials, original sculpture installations and seamlessly proportioned spaces are integrated to create a sophisticated and modern "Asian influenced" residence. The lush green surrounds of The Lawn offer guests a respite with relaxing cocktails or complimentary group wellness classes. A warm and inviting Sky Lounge, featuring a central fireplace, welcomes guests day and night and plays host to the House's globally renowned signature talk series, Up Close. Crowning the top floor, Salisterra is an elevated neighbourhood bistro inspired by the colours and flavours of the Mediterranean. Located within Pacific Place, The Continental is a friendly and sophisticated European-inspired café that features a classically influenced menu and a tranquil year-round terrace. The Upper House sits above Pacific Place, Hong Kong's premier integrated commercial, retail and hospitality complex, conveniently located in the heart of Hong Kong's business district.
---
Source: Swire Pacific Limited
---
---
© Copyright 1996-2023 irasia.com Ltd. All rights reserved.
DISCLAIMER: irasia.com Ltd makes no guarantee as to the accuracy or completeness of any information provided on this website. Under no circumstances shall irasia.com Ltd be liable for damages resulting from the use of the information provided on this website.
TRADEMARK & COPYRIGHT: All intellectual property rights subsisting in the contents of this website belong to irasia.com Ltd or have been lawfully licensed to irasia.com Ltd for use on this website. All rights under applicable laws are hereby reserved. Reproduction of this website in whole or in part without the express written permission of irasia.com Ltd is strictly prohibited.
TERMS OF USE: Please read the Terms of Use governing the use of our website.