Swire Pacific Limited

---
Swire Pacific Limited
1998 Final Results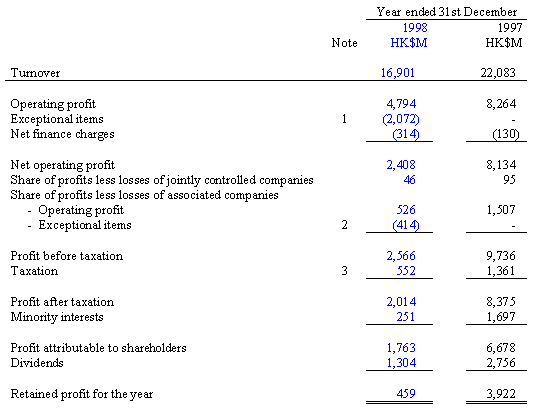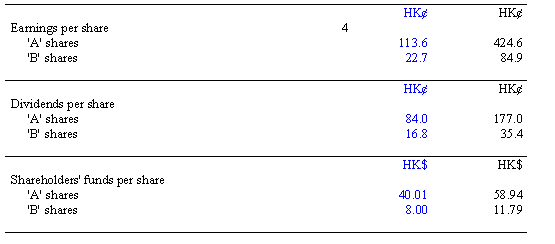 Notes:
1) Exceptional items

2) Share of profits less losses of associated companies - Exceptional items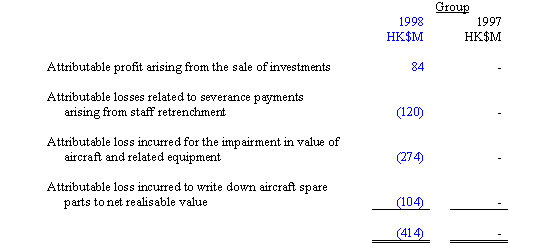 3) Taxation

Hong Kong profits tax is calculated at 16.0% (1997: 16.5%) on the estimated assessable profits each year. Overseas taxation is calculated at rates of tax applicable in countries in which the Group is assessed for tax.
4) Earnings per share
Earnings per share are calculated by dividing the profit attributable to shareholders for the year of HK$1,763 million (1997: HK$6,678 million) by the weighted average number of 940,111,885 'A' shares and 3,059,301,271 'B' shares in issue during the year (1997: 958,898,011 'A' shares and 3,068,496,011 'B' shares).
5) Comparative amounts
Certain comparative amounts have been reclassified to conform with the current year's presentation.
Review of Operating Results
The principal activities of the Swire Pacific Group together with the contribution of each activity to Group results are as follows:
The Company and its subsidiaries: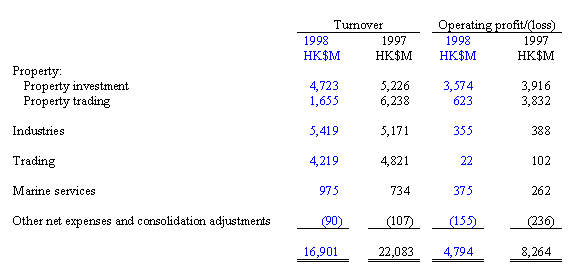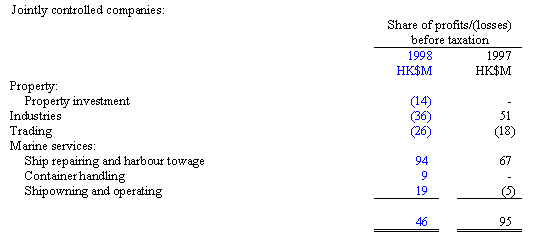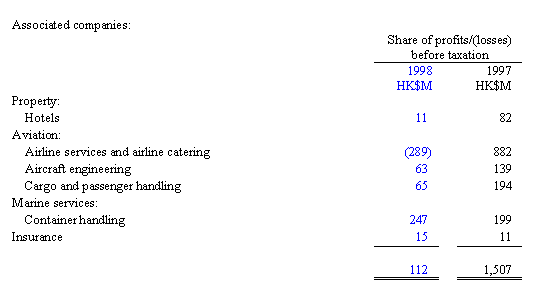 An analysis of Group attributable profit/(loss) by division is as follows:

Dividends
The Directors recommend the payment of final dividends for 1998 of HK¢58.0 per 'A' share and HK¢11.6 per 'B' share which, together with the interim dividends paid on 5th October 1998 of HK¢26.0 per 'A' share and HK¢5.2 per 'B' share, make total dividends for the year of HK¢84.0 per 'A' share and HK¢16.8 per 'B' share, being a decrease of 52.5% over those for 1997. This represents a total distribution for the year of HK$1,304 million. Subject to the approval of the 1998 final dividends by the shareholders at the annual general meeting on 13th May 1999, it is expected that those dividends will be paid on 1st June 1999 to shareholders registered on 13th May 1999. The share registers will be closed from 10th May 1999 to 13th May 1999, both dates inclusive.
Share capital
During the year under review, the Group did not purchase, sell or redeem any shares in Swire Pacific Limited.
Corporate governance
The Company has complied throughout the year with the Code of Best Practice as set out in the Listing Rules.
In compliance with the additional requirement of The Stock Exchange of Hong Kong Limited to its Code of Best Practice, the Company has on 1st October 1998 established an Audit Committee comprising D G Eldon as Chairman and C Lee and P A Johansen as members with written terms of reference.
Movements on reserves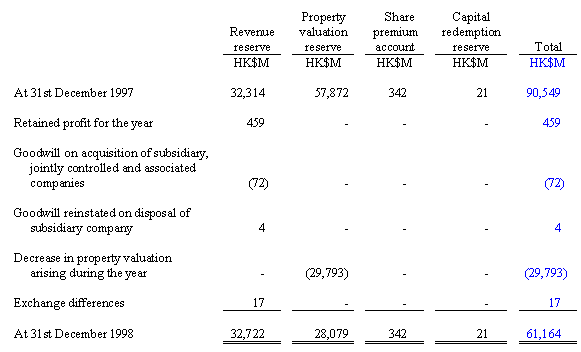 The 1998 valuation at open market value of the Group's investment properties, both completed and under development, was HK$55,913 million. This valuation resulted in a decrease of HK$29,793 million in the Group's property valuation reserve. Taking into account the retained earnings and the decrease in the valuation of investment properties, the net asset value of the Swire Pacific Group at 31st December 1998 was HK$62,095 million, a 32.1% decrease on the prior year.
Capital Resources & Liquidity
Swire Pacific's total shareholders' funds have reduced to HK$62,095 million at the end of 1998 as compared with HK$91,480 million at the end of 1997, mainly due to the significant downward revaluation of the Group's investment property portfolio.
At 31st December 1998 the Swire Pacific Group held cash deposits of HK$814 million whilst bank loans and other borrowings due within one year amounted to HK$5,491 million. A three-year term loan of HK$2,850 million has been arranged since the year-end in order to provide additional liquidity for the Group's ongoing operations.
An analysis of the Group's net borrowings by currency at 31st December 1998, including the US$600 million Perpetual Capital Securities issued, is shown below:

Sources of Finance
At 31st December 1998, committed loan facilities and other financing in place amounted to HK$20,869 million of which 17% remained undrawn. In addition, there were uncommitted facilities undrawn at year-end amounting to HK$1,486 million. Sources of funds at the end of 1998 comprised:

Maturity Profile
It is Group policy to secure adequate funding so as to match cash flows associated with both current and planned investments. The maturity profile of the Group's gross borrowings at 31st December 1998 is set out below:

Interest Rate Profile
In addition to raising funds on a fixed rate basis, the Group uses interest rate swaps and other instruments where appropriate in the management of its interest rate profile. At 31st December 1998, 38% of the Group's gross borrowings were on a floating rate basis and 62% were on a fixed rate basis.
Interest Cover and Gearing
Interest cover for the year ended 31st December 1998 was 15.27 times whilst cash interest cover calculated by reference to total interest charges including those capitalised, was 3.59 times. Gearing ratio was 0.27/1 at the end of 1998.
Year 2000
The Year 2000 (or "Y2K") or millennium date change issue has arisen because many computer systems and electronic devices which store date information based on a two-digit year sequence are unable to accurately process dates for the Year 2000 and beyond. The problem affects IT and all other systems and equipment that rely on embedded electronic chip technology. It has the potential to impact any business that does not take adequate steps to upgrade or replace non-compliant systems, guard against third-party risk from critical suppliers or customers, and manage its risk-exposure through the development of comprehensive contingency plans.
Recognising that this is first and foremost a business problem, the Swire Pacific Group is addressing the millennium date change issue as a matter of priority. Sponsored by the Chairman of Swire Pacific, and reporting to a central steering committee, the Swire Group Y2K Programme Office is working with external consultants to monitor progress towards Y2K readiness on a Group-wide basis. In addition, each operating company within the Group has set up its own Y2K project, with dedicated resources, to address the millennium issue. The Programme Office provides co-ordination and guidance for these individual focused projects.
The Swire Group Year 2000 Programme Office reports to the Group Steering Committee, chaired by the Chairman of Swire Pacific, on the progress of the Group's various Year 2000 programmes, on a regular basis.
The Group as a whole aims to achieve Y2K readiness for its business-critical systems by March 1999 and compliance by June 1999, with the objective that neither the performance nor function of the Group's key business assets will be materially affected by the date change.
Y2K readiness will have been achieved when an inventory of all relevant equipment and systems (that is all business critical IT systems and equipment relying on embedded electronic chips which could be disrupted by the series of date changes associated with the Y2K issue, and therefore could have a material adverse effect on the business or operations of the Group) has been made; such equipment and systems have been assessed and tested for potential Y2K problems identified by the relevant project team, and a course of action relating to any identified problems has been decided upon and the equipment or services required to implement this have been ordered or arranged. Group companies will have business contingency plans in place to apply in the event of disruptions caused by system or equipment failure or third party non-compliance.
Having achieved readiness, Swire Pacific aims to achieve Y2K compliance by June 1999. By this is meant, in relation to its own relevant equipment and systems, the modification or replacement of all such equipment and systems that fail the Group's Y2K compliance test. In respect of suppliers of such equipment and systems, all critical suppliers will have passed the Group's Y2K compliance audit, or have been replaced where possible by those that have.
The Group first began to address Y2K issues in 1996, and an element of remedial expenditure has been avoided because Swire Pacific has been able to implement the replacement of systems and equipment as part of regular and budgeted enhancements to its business systems. The move of a number of key Group companies' headquarters during 1998 has provided a further impetus to these enhancements.
During the year ended 31st December 1998, the Group has spent HK$20 million in replacing systems with upgraded versions which the vendors have represented as being Y2K compliant. The cost of these new assets has been capitalised in the accounts whereas other costs relating to the Y2K programme are expensed through profit and loss as and when incurred. As at 31st December 1998, the aggregate of commitments authorised by the directors of the Company and contracted for in the year in respect of the Y2K programme is HK$59 million, of which HK$53 million has been provided for in the accounts for the year then ended. A further HK$21 million in aggregate has been authorised by the directors but not contracted for in respect of the Y2K programme. The aggregate of the total costs to achieve Y2K compliance are estimated to be not less than HK$138 million. These figures do not include those attributable to jointly controlled and associated companies.
Swire Pacific believes that it has taken, or has identified and will take, all reasonable steps necessary to ensure that its internal systems and equipment will enable it to be Year 2000 compliant in a timely manner. In addition, Swire Pacific believes that it has taken, or has identified and will take, all reasonable steps necessary to identify and mitigate the material adverse effects which might result from any third parties on which Swire Pacific is or will be reliant failing to be Y2K compliant. However, there can be no assurance that equipment or services used by third parties on which the Group does or will rely, will be Y2K compliant in a timely manner. The failure of the systems or equipment or services used by third parties and on which the Group does or will rely, could have a material adverse effect on its business. For example, the Aviation Division is highly dependent upon third parties for the infrastructure within which various companies of the aviation division operate. These issues are being addressed by an Aviation Division subcommittee, which is working closely with IATA and other industry bodies.
All Group companies are presently taking steps to identify the potential Y2K related system disruptions which may impact on part or all their operations, and will have business continuity plans established to reduce the potential impact of any such disruptions.
Chairman's Statement
The Group profit attributable to shareholders for 1998 was HK$1,763 million, a decrease of 74% from 1997. This included exceptional provisions of HK$2,072 million for diminution in the value of the Group's share of certain development sites and exceptional charges, mainly associated with the decommissioning of aircraft in Cathay Pacific and redundancy payments in Cathay Pacific and HAECO, amounting in aggregate to HK$414 million. The Group's attributable profit excluding these items decreased by 36% reflecting the depressed economic environment in which the Group was operating during 1998.
Dividends
Interim dividends of HK¢26.0 per 'A' share and HK¢5.2 per 'B' share were declared on 6th August 1998; Directors have recommended final dividends for 1998 of HK¢58.0 per 'A' share and HK¢11.6 per 'B' share. The total distribution per share paid and proposed for 1998 is 52.5% lower than that for 1997. This is considered a prudent distribution level in view of continued uncertainty in the aviation and property markets. Subject to approval by shareholders, dividend payments will be made on 1st June 1999.
Property Division
1998 was a particularly difficult year for the property market in Hong Kong brought about by the depressed state of the economy and increased supply, especially in the office sector. As a consequence, market rental levels have declined and property values have fallen significantly, as evidenced by the decline in the Group's property valuation reserve. However, despite these conditions, Swire Properties' net rental income remained at a similar level to the previous year due to additional contributions from the reinstated areas of the Cityplaza shopping centre and the Cityplaza One office tower. Vacancy levels are higher than previously experienced but these are largely confined to the office and retail space completed in the last eighteen months. Demand for service apartments has also softened markedly.
Swire Properties continued to expand its high-quality investment property portfolio in Hong Kong during 1998. Lincoln House at TaiKoo Place was completed in the latter part of 1998, and a further office tower, Oxford House, is due to be completed in mid-1999. Festival Walk, a major new retail and commercial complex adjacent to the Kowloon Tong KCR/MTR interchange station opened in November 1998 and is already establishing itself as a popular shopping destination in Kowloon.
Swire Properties has now sold most of its completed development projects, although at lower prices than those achieved in 1997, but has a number of other development projects in progress. During the year, the company in joint venture with Sun Hung Kai Properties and China Motor Bus was successful with a tender for a residential site in Aldrich Bay with development potential of 742,000 square feet which will be constructed over a three-year development programme.
Aviation Division
Cathay Pacific encountered some of the most difficult trading conditions in its history during 1998 which saw a significant downturn in revenues as the economic contraction reduced demand for travel. This was exacerbated by the weakness of regional currencies in which the airline earns much of its revenues. Greater focus has been given to cost control across the airline, which together with lower fuel prices has led to a substantial decline in unit costs and thus to some extent mitigated the impact of the economic downturn on margins.
Ten new aircraft ordered three years ago were delivered in 1998. However, in view of the weak economic outlook for Asia a decision was made to remove all thirteen older Boeing 747-200/300 passenger aircraft from service. Only three new B777-300 aircraft remain to be delivered in 1999 and the airline has no further firm orders.
In a major development, Cathay Pacific together with American Airlines, British Airways, Canadian Airlines and Qantas formed the new global alliance, oneworld, to offer frequent travellers improved levels of service and benefits across a network of more than 600 destinations worldwide.
The new Hong Kong International Airport at Chek Lap Kok opened in July 1998 and although there were considerable initial difficulties, the airport is now operating well. However, charges for operating at the new airport are substantially higher than at the old Kai Tak Airport which has had a significant impact on many companies operating at the airport, and on Cathay Pacific in particular being the largest user of airport services at Chek Lap Kok.
HAECO's profitability was considerably eroded in 1998 due to the downturn in air traffic in Hong Kong, increased competition for the supply of line maintenance services, and the substantially higher operating costs at the new airport. However, there were improved contributions from Taikoo (Xiamen) Aircraft Engineering Company and Hong Kong Aero Engine Services, HAECO's affiliated companies engaged in heavy airframe maintenance and engine overhaul respectively.
Dragonair's performance was impacted by weak Asian economies and increases in capacity by its major competitors in 1998 leading to a decline in revenues and profitability. Air Hong Kong performed well despite a decline in the air cargo market. Hong Kong Air Cargo Terminals is now operating efficiently from its new facility, having recovered from the difficulties experienced on opening of the new airport, but cargo throughput has fallen during the year which together with higher fixed costs has significantly reduced profits.
Industries Division
Swire Beverages' performance in Hong Kong, Taiwan and Mainland China was also affected by the generally depressed economic conditions, although significant volume growth was still achieved. New Coca-Cola bottling plants in Taiwan and Mainland China were completed in 1998 and further progress was made in expanding the distribution system with the aim of improving margins. There was some volume growth in the USA but margins there were affected by continuing price competition.
The principal wholly-owned subsidiaries within Swire Industrial reported very good results in 1998, but the jointly controlled companies experienced mixed results. The Carlsberg Brewery Hong Kong group, the Crown Can Hong Kong group, and ICI Swire Paints all suffered from over-supply in their Mainland China markets and each incurred significant restructuring costs. Swire SITA Waste Services again performed well.
Trading Division
The motor vehicle distribution business including the distributorship of Volvo cars in Mainland China, Taiwan, Hong Kong and Macau was further developed in 1998 with the addition of the distributorship of Hyundai cars in Hong Kong. However, profitability in all markets was depressed in 1998 by weak demand.
The retail sportswear business continued to be affected by the severely depressed consumer sentiment throughout the year, necessitating the closure of some stores. However, the division's agency and export businesses produced good results.
The branded apparel business in the USA reported losses due to increasing retail competition and the costs of restructuring the business.
Marine Services Division
Continued strong demand for offshore support vessels allowed Swire Pacific Offshore to maintain high utilisation and charter rates for its fleet in 1998, giving rise to record profits for the company. Three new vessels were delivered during the year and one older vessel was sold. Four further newbuildings are to be delivered this year.
Modern Terminals reported higher earnings in 1998, whilst throughput at Shekou Container Terminals more than doubled. Profits from the harbour towage business were stable, but difficulties persist at Hongkong United Dockyards as a result of weak demand and intense competition, although a good profit was realised from the sale of the second floating dock.
Finance
At 31st December 1998, consolidated net borrowings amounted to HK$18,012 million, and when related to shareholders' funds and minority interests totalling HK$65,815 million, resulted in a gearing ratio of 0.27/1. The increase in gearing ratio over that at 31st December 1997 reflects increased borrowings in 1998, but more significantly the reduction in the valuation of the Group's investment properties at the end of the year.
Community Relations
During 1998, Swire Pacific has continued to support charities that assist those amongst our community least able to help themselves. In particular, focus has been given to projects that aim to improve the quality of life of the people of Hong Kong and of the other markets we serve. These included the Community Chest, the Hong Kong Association for the Mentally Handicapped and the Outward Bound Trust of Hong Kong. The Group has also been actively involved in educational sponsorship in Hong Kong and elsewhere in Asia and we now fund a number of annual residential and graduate scholarships at Hong Kong University, as well as Ph.D. Scholarships for students from Mainland China.
In 1998, we continued to fund environmental research at the Swire Institute of Marine Science. We have also continued our support for the Life Education Activity Programme (LEAP), a project which teaches a growing number of young children about the dangers of drug abuse through the medium of mobile classrooms, and for the Community English Language Laboratory (CELL) - a free resource for those who wish to improve their spoken English.
Environment
Preservation of our environment is a subject that is currently close to the hearts of the people of Hong Kong. We hold the environment in trust and must act now to reduce significantly levels of pollution if we are to ensure the legacy we pass on to our children is a healthy and a safe one.
Swire Pacific takes its environmental responsibilities very seriously indeed. As a major organisation involved in businesses that include aviation, shipping, property development and distribution, we know our activities do have an impact on the environment. We have a duty to our customers, our staff and shareholders, and to the community as a whole, to strive continually to lessen that impact. It is not enough simply to comply with legislation. As a leading Hong Kong company, we must try to set standards for others to follow.
During the year, Swire Pacific companies have continued to make environmental protection a high priority. One of the messages we are keen to spread is that an environmental conscience is not simply a luxury that businesses can afford during the 'good times', but is just as important during the current economic downturn.
Staff
We remain aware that our success depends upon the quality of the people we employ. The Group has more than 58,000 employees, all of whom have worked hard in the face of often very trying conditions over the last year to help bring Swire Pacific through the current local and regional downturn. On behalf of the shareholders, I would like to thank them for their valuable contribution.
Prospects
1998 was a particularly difficult year for businesses based in Hong Kong and the Asian region and it has been necessary to take bold initiatives to reduce costs and improve competitiveness. Many group companies now have more efficient cost structures but economic conditions in the majority of the markets in which we operate are likely to remain weak and we can expect 1999 to be another challenging year.
Some reduction in rental income must be expected as leases are renewed at lower levels. This loss of income is unlikely to be made up through additional leases in the newly completed buildings which are being added to the investment property portfolio, although there is now good interest at current rental levels. Similarly, prices for developments for sale have reduced significantly and therefore the margins from property trading activities will be much lower than in recent years.
Cathay Pacific has achieved much in terms of improved efficiency and cost control but the outlook for aviation, in terms of traffic volumes and yields, remains weak. Significant long-term benefits are expected from the oneworld alliance although meaningful revenue improvements are not anticipated before 2000. Other aviation division companies will remain under pressure until there is a sustained resumption of air traffic growth.
The programme for construction of new production facilities for most of the businesses within the industries division has been completed. Although trading conditions remain unfavourable, the division should benefit from continued enhancement of its beverage distribution system in Mainland China.
The outlook for the trading division, which had a poor year in 1998, remains uncertain.
The marine services division is expected to provide another good contribution to the overall results in 1999. There are, however, some signs of a softening of demand in the offshore oil support industry.
Swire Pacific remains in a strong financial position and is committed to growth. However, with the continuation of a weak economic outlook, the primary focus in the year ahead will be on improving competitiveness in existing businesses.
Annual Report
The 1998 annual report will be sent to shareholders on 16th April 1999.
P D A Sutch
Chairman
Hong Kong, 12th March 1999
For further information contact:
Mr. Andrew Herdman, GM Group Public Affairs, (852) 2840-8092
Mrs. Maisie Shun Wah, Manager Group Public Affairs, (852) 2840-8097
---
Source: Swire Pacific Limited
---
---
© Copyright 1996-2023 irasia.com Ltd. All rights reserved.
DISCLAIMER: irasia.com Ltd makes no guarantee as to the accuracy or completeness of any information provided on this website. Under no circumstances shall irasia.com Ltd be liable for damages resulting from the use of the information provided on this website.
TRADEMARK & COPYRIGHT: All intellectual property rights subsisting in the contents of this website belong to irasia.com Ltd or have been lawfully licensed to irasia.com Ltd for use on this website. All rights under applicable laws are hereby reserved. Reproduction of this website in whole or in part without the express written permission of irasia.com Ltd is strictly prohibited.
TERMS OF USE: Please read the Terms of Use governing the use of our website.