China Telecom Corporation Limited
(A joint stock limited company incorporated in the People's Republic of China with limited liability)
---
China Telecom Cloud Won Three World's No.1s in The SPEC Cloud Benchmark
Recently, Standard Performance Evaluation Corporation (SPEC), an international authoritative standard and performance evaluation organisation, released the results of the brand new Cloud IaaS 2018 benchmark. China Telecom Cloud platform achieved the World's No. 1 in the overall performance score and relative scalability of cloud platform based on the ARM architecture, all four key sub-indicators of cloud platform based on the ARM architecture, and the relative scalability of China Telecom Cloud 4.0 in all test samples.
The overall performance score reflects storage and reading/writing capabilities, cloud host computing power and network traffic distribution capabilities, especially the capacity of CPU/internal storage and capability and way of virtualised channelling of the cloud platform. The relative scalability test measures the elastic capacity expansion capabilities, the reasonability and balancing of the cloud platform's algorithm used in channelling, as well as the anti-interference capability among cloud hosts when workload pressure increases. The SPEC benchmark results fully demonstrate the outstanding computing channelling and large-scale expansion capabilities of the China Telecom Cloud platform.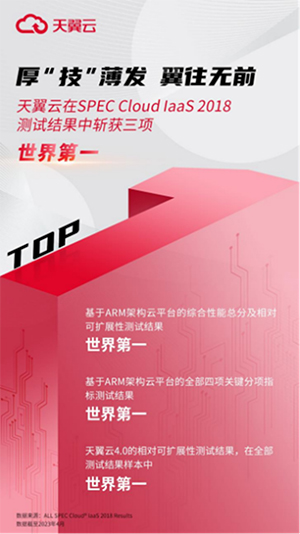 ---
Source: China Telecom Corporation Limited
---
---
© Copyright 1996-2023 irasia.com Ltd. All rights reserved.
DISCLAIMER: irasia.com Ltd makes no guarantee as to the accuracy or completeness of any information provided on this website. Under no circumstances shall irasia.com Ltd be liable for damages resulting from the use of the information provided on this website.
TRADEMARK & COPYRIGHT: All intellectual property rights subsisting in the contents of this website belong to irasia.com Ltd or have been lawfully licensed to irasia.com Ltd for use on this website. All rights under applicable laws are hereby reserved. Reproduction of this website in whole or in part without the express written permission of irasia.com Ltd is strictly prohibited.
TERMS OF USE: Please read the Terms of Use governing the use of our website.