The Kowloon Motor Bus Holdings Limited

---
Operational Review
IN 1998 THE GROUP'S OPERATIONS AGAIN IMPROVED OVER THE PREVIOUS YEAR.
Staff cost and staff per bus
Franchised Public Bus Operations
Emphasis on increased productivity, flexibility and efficiency.

Number of staff
Group
Employee growth reflects increased bus operations.

Total fleet capacity
Franchised Public Bus Operations
Total authorised carrying capacity of licensed bus fleet as at the end of the year.

Fleet size
Franchised Public Bus Operations
Number of licensed buses as at the end of the year.

Mechanical reliability
KMB
Average number of trips operated before a bus has one mechanical breakdown while passengers are on board.

Bus kilometres operated
Franchised Public Bus Operations
Total number of kilometres travelled by the fleet during the year.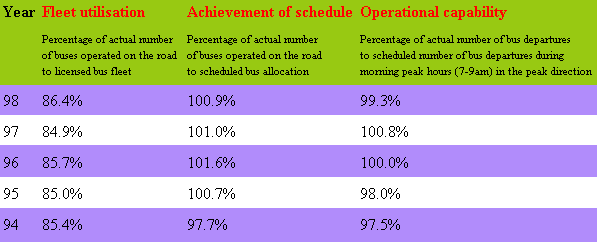 Operations
KMB
Consistent operational performance reflects our commitment to provide passengers with quality and reliable service.
THE KOWLOON MOTOR BUS COMPANY (1933) LIMITED ("KMB")
OPERATIONAL EXCELLENCE
ISO Certification
KMB's Traffic Department was certified according to the requirements of ISO 9002:1994 by the Hong Kong Quality Assurance Agency ("HKQAA") in July 1998. The scope of this eighth certification is "Franchised bus service delivery (excluding planning)".
In the third quarter of 1998, KMB Headquarters units began preparing for ISO 9002 certification in 1999. Success in obtaining this ninth ISO accreditation will result in KMB being probably the first public bus company in the world with the ISO "Quality Systems" implemented throughout the entire organisation.
Performance Pledge
The Performance Pledge in mechanical reliability and operational capability, the two core competencies in bus operations, reflects our commitment to provide passengers with quality and reliable service.
Mechanical reliability is determined by the average number of trips operated before a bus experiences one mechanical breakdown on the road with passengers on board. Operational capability is measured by the ratio of actual to scheduled departure trips travelling in the peak directions within the overall bus network during the morning peak hours of 7:00 a.m. - 9:00 a.m.
For the Performance Pledge Report 1997/1998 (covering the year ending 30 June 1998), our performance was 1927:1 on mechanical reliability and 99.33% on operational capability as against our targets of 1800:1 and 100% respectively. (The targets were 1350:1 and 97% previously but were raised substantially as from the year 1997/98 to demonstrate our commitment to further improving service.)
FLEET UPGRADES
The Fleet
KMB is the largest bus operator in Hong Kong with a fleet of 3,989 buses, 3,714 of which are double-deck buses. Passenger surveys and patronage trends indicate a growing demand for air-conditioned bus services. To meet customer expectations, the number of KMB air-conditioned buses was increased from 1,794 to 2,115 during the year. This includes 1,840 double-deck and 275 single-deck buses and represents 53% of the total fleet. In 1998, 345 new three-axle air-conditioned double-deck buses were introduced for KMB. A further 283 buses for KMB were ordered for delivery in 1999.
Easy Access Buses
KMB introduced super-low floor double-deck buses to Hong Kong in 1997. It now has the largest fleet of this kind in the world having added 85 of these vehicles during the year. An additional 233 of these buses will be delivered in 1999. To mark the introduction of this new generation of buses, a new champagne colour was chosen for the vehicles. This received very favourable attention from the news media and the community at large.
NEW ROUTES AND SERVICE EXPANSION
At the end of 1998, KMB operated a total of 387 bus routes serving urban Kowloon, the 12 new towns of North District, Kwai Chung, Ma On Shan, Sai Kung, Sha Tin, Tai Po, Tin Shui Wai, Tseung Kwan O, Tsing Yi, Tsuen Wan, Tuen Mun and Yuen Long in the New Territories as well as cross-harbour services to Hong Kong Island. During 1998, 17 new routes were launched including one cross-harbour route, 13 from the new towns, two Airport Railway feeder routes in urban Kowloon and one recreation and special service route. The prospect for further expansion is due to the population growth in Hong Kong (particularly in the New Territories), the preference for the most economical mode of public transport and the desire for improved service such as more air-conditioned buses.
Traffic
A total of 1,034.4 million passenger trips was made on KMB buses during the year compared with 1,051 million trips in 1997, a decrease of 1.6%. The daily average number of passengers in 1998 was 2.83 million compared with 2.88 million for 1997.
The actual distance travelled by the Company's buses totalled 302.5 million kilometres during 1998 compared with 301 million kilometres in 1997. The 0.5% increase was primarily due to the introduction of new routes as well as improved frequencies on certain routes.
ENVIRONMENTAL PROTECTION
KMB is committed to conducting its business in a manner that is compatible with the protection of the environment. In our ongoing effort as regards environmental protection, KMB implemented numerous measures during the year.
Air Quality
All 345 new KMB buses introduced in 1998 are equipped with the environmentally friendly Euro 2 standard engines to further improve emission control. In total, 954 buses with the Euro 1 engine and 793 buses with the Euro 2 engine have been added to the KMB fleet. The Euro 2 engine complies with the exhaust emission level standards issued by the European Council of Environmental Ministers. All of our new buses will be equipped with the Euro 2 engine until the year 2001 when the Euro 3 engine, complying with an even more stringent emission standard, will be introduced for all new vehicles.
Waste Water
Waste water produced from the daily operation of depots is treated before it is discharged into the public drainage system. By the end of 1998, KMB had 10 waste water treatment systems for its depots and improvement work began on installing the newest system in Lai Chi Kok Depot. Waste water discharge is closely monitored in all depots to ensure compliance with regulatory requirements and the protection of Hong Kong's environment.
Ozone Layer
To accelerate the programme to protect the ozone layer, KMB will replace the halon-based fire fighting installation at all depots before mid-1999 with an environmentally friendly gas extinguishing system.
KMB PEOPLE
Stable Staff
Our staff grew from 12,524 at the end of 1997 to 12,956 towards the end of 1998. Staff turnover for the year was 5.4%, a historic low. The stability of our work force was underscored in September when 431 staff members were presented with the 30-year service award and 454 were recognised for 20 years of service.
In addition, 187 staff members received the Loyal Service Award in 1998. A total of 3,665 bus captains were eligible for the Good Service Annual Award and 3,652 were eligible for the Safe Driving Annual Bonus. Both awards were related to their performance during the period from 1 September 1997 to 31 August 1998. In the safe driving category, 399, 145, and 74 bus captains attained consistently high standards for the Five-year, 10-year and 15-year Safe Driving Awards respectively.
Caring for Staff
To provide a more pleasant environment for staff, we renovated our Medical Centre and Staff Welfare Section at Lai Chi Kok Headquarters at the beginning of the year. We will continue to improve our staff welfare and care activities in keeping with KMB's mission of 'Caring for people'.
Safety and Health
KMB has always been strongly supportive of occupational safety and health in Hong Kong and was the first franchised public bus company to sign the Occupational Safety and Health Charter. It also has established a safety management system, which minimises risk to KMB, improves business performance and reinforces its reputation for corporate responsibility.
KMB staff developed a teaching kit on the special needs of bus operations with the Occupational Safety & Health Council (OSHC). KMB also has joined the Green Cross Group established by OSHC to share experiences with other professionals and organisations and to keep up-to-date on safety and health information.
Apprentice Training
To ensure an adequate supply of skilled maintenance workers, KMB conducts a four-year apprentice-training scheme for young school leavers at its Technical Training School. Since its establishment in 1973, 1,781 apprentices have graduated from the school. As at the end of 1998, there were 274 apprentices in training.
During the year, KMB participated in the Best Apprentice Competition organised by the Vocational Training Council. KMB apprentices won three first-place prizes in the automobile electrician competition and the third prize in the automobile mechanics competition.
PASSENGER SERVICES
Octopus Smart Card
By March 1999, 118 bus routes, representing about one-third of the KMB and LWB network, accepted the Octopus Smart Card for fare payment. On average, about 370,000 passengers, or 13% of our total customers, each day use the card to pay bus fares reflecting the high acceptance rate of the convenience offered by the system. Usage is highest on the cross-harbour routes with over 50% of the passengers using Octopus. The proportion is increasing on the other routes where the Octopus machines were installed more recently. Our plans are to implement the Octopus system across the whole network by the end of year 2000.
Announcement System
Following trials of the electronic Bus Stop Announcement System with voice plus light emitting diode (LED) display on buses of Route No. 170 in mid-1998, air-conditioned buses on four additional routes (Nos. 1A, 60M, 86K and 88K) have been equipped with the system. An order has been placed for another 75 units that will be installed in the first quarter of 1999. All buses will be progressively equipped with a similar system for the enhancement of passenger services.
Waiting Shelters
KMB is dedicated to providing a pleasant and comfortable waiting environment for passengers. Eighty new bus shelters, of both conventional aluminium and new stainless steel designs, were built throughout Kowloon and the New Territories in 1998. All roofing on existing shelters that contained asbestos material had also been replaced.
Terminal Upgrades
An upgrade programme was launched for our major bus terminals during the year and will be continued during 1999. The facilities have been renovated and upgraded at Star Ferry, Jordan Road Ferry, Mei Foo, Tai Kok Tsui, Chuk Yuen Estate, Kwun Tong (Yuet Wah St), Cheung On Estate, Lei Muk Shu, Tai Po Centre, Wah Ming Estate, Yuen Chau Kok and Yuen Long (West).
Depot Construction and Renovation
The Sheung Shui Temporary Bus Depot was completed in mid-1998 and construction of the New Tuen Mun Temporary Bus Depot will be finished in April 1999. These two depots will have parking capacity for 329 buses.
Comprehensive renovation of the Tuen Mun Bus Body Construction Depot, completed in mid-1998, and the Tuen Mun Depot, scheduled for completion in mid-1999, will greatly improve the working environment of these facilities and enhance productivity and service quality.
INFORMATION TECHNOLOGY
Computer Network Infrastructure
KMB's computer systems comprised some 830 personal computers and computer terminals installed at the Lai Chi Kok Headquarters, seven major depots and five satellite depots. All these computers are interlinked to the mainframe and major server computers at the Headquarters by a wide area network. The cabling network infrastructure in these locations was upgraded during the year. The local area networks ("LANs") are running at 100 Mbps on CAT5 UTP cables and fibre optic cables. Depot LANs are connected to headquarters using high-speed communication links.
With the new structure in place, the reliability, expandability and capacity of the networks have been increased to facilitate data communication among all depots. This also forms a foundation for deploying application systems to further enhance depot automation.
Bus Tracking Capability
At the forefront of the latest technology, KMB has put two bus tracking systems under trial. One uses Global Positioning System ("GPS") technology and another uses distance reckoning technology. These systems will enable us to track the progress of our buses and to respond faster to traffic incidents and hence to deploy resources more effectively.
OUTDOOR ADVERTISING
Bus Body Advertising
On 31 July 1998, KMB appointed Top Result Promotion Limited as the sole sales agent for marketing the bus body advertising space for three years commencing 1 November 1998. Contracting out this business to an external professional firm will maximise advertising revenue and increase our share in the outdoor advertising market.
Bus Shelter Advertising
Apart from providing a pleasant and comfortable waiting environment for passengers, the upgraded bus shelters will bring in potential commercial value from panel advertising. The company is exploring the feasibility to license a sales agent for the marketing of the bus shelter panels to advertisers.
Passenger Outreach
Remaining sensitive to the needs and expectations of our customers and the community is vital to our business. We have a variety of programmes in place to keep us current and to gather ideas for service improvements.
Enquiry Hotline
The Passenger Enquiry Hotline received 4.7 million calls during the year, compared to 4.3 million in 1997, representing an average of nearly 400,000 calls per month. With additional customers enquiring about bus information, some 526,000 in-coming calls were received in July 1998 following the opening of Hong Kong's new International Airport at Chek Lap Kok. As a service to the travelling public, the 24-hour hotline system is operated in Cantonese, Putonghua and English for bus service inquiries, fax-on-demand services and voice mail recording beyond operator service hours.
Passenger Liaison
KMB organised six Passenger Liaison Group sessions in 1998 to collect passenger opinions and feedback on bus services and this proved effective in generating ideas to improve service quality. Participants were recruited throughout Hong Kong. University lecturers served as moderators, while representatives of the Transport Department acted as observers.
Mobile Service Centre
Aiming to facilitate direct communication with passengers, the KMB Mobile Service Centre, established in 1996, travels weekly to different districts to collect passengers' opinions on bus services. The Passenger Opinion Cabin, modified from a single-deck bus, received a total of 671 suggestions during 1998.
Friends of KMB
Membership of our passenger club, Friends of KMB, was 1,500 at the end of 1998. During the year, members of Friends of KMB took part in a number of community activities such as tree planting, charity walks and visits to elderly centres.
Hong Kong Customer Service Consortium
KMB joined the Hong Kong Customer Service Consortium as a founding member to demonstrate its commitment to enhancing customer service. With a membership comprising 17 leading companies from various business sectors, the Consortium promotes good customer service in Hong Kong.
ADVERTISING AND MARKETING
Image Building Advertising
A new KMB corporate television advertising campaign was staged to showcase KMB's efforts and achievements in improving and upgrading its service to the community. A total of eight new commercials was created to highlight KMB's continuous commitment to service. Examples included the upgrade of bus fleet, extensive overnight service network and the dedication of the KMB team in providing high quality bus service.
"Golden Mile" Christmas Promotion
Riding on the festive Christmas season, KMB launched its first "Golden Mile" Christmas promotion to generate positive corporate awareness and goodwill, and to familiarise passengers with KMB's Nathan Road bus routes. Passengers were encouraged to take the selected routes, namely, Route Nos. B1, 1, 2, 6, 7 and 9, at a fare of less than HK$5, to enjoy Christmas shopping and the sights along Nathan Road. Buses of these routes carried Christmas and New Year greetings, and bus shelters and stops along Nathan Road also had attractive festive decorations.
The fun rides on the colourful open-top Christmas buses along Nathan Road on Christmas Day were enjoyed by passengers and drew favourable media coverage.
COMMUNITY OUTREACH
Provisional District Boards and Community Groups
To enhance communication with different sectors of the community, meetings were arranged with members of Provisional District Boards and various local community groups to exchange views on bus services. In 1998, representatives from the Company attended 55 Provisional District Board and user group meetings.
The Chairmen and members of 12 Provisional District Boards also visited the Company and met with top management. These visits proved to be effective in enhancing mutual understanding and fostering a closer working relationship.
KMB Web Site
Visitors to KMB's homepage, which was launched in 1995, topped the 12 million mark at the end of 1998. This represented a daily rate of nearly 10,000. As the first public utility company in Hong Kong to establish a homepage, KMB won the Silver Award (Government and Public Utility Section) in the 1996 Sing Tao NetWorld HK Websites Competition. The KMB Web Site Address is http://www.hkstar.com/netmarket/kmb.
District Election of Bus Captains
As a prelude to the 1998-1999 Bus Captain of the Year Competition, which is a major annual event at KMB that recognises and commends bus captains for outstanding performance, the 18 District bus captain elections were held in December 1998 with the endorsement of all the 18 Provisional District Boards. Adjudication was conducted by representatives from both KMB and the Provisional District Boards to select winners from each district.
Charity and Community Support
As a socially responsible corporate citizen, KMB demonstrates its concern for the community through sponsorships, donations and participation in various community events.
Community Chest
KMB was awarded the President's Award of Excellence by the Community Chest in recognition of the Company's efforts in raising over $1 million. KMB also supported other fund-raising programmes such as the New Airport Tour for Millions, and the Route 3 Walk for Millions by providing free bus transportation to participants.
Artists Volunteer Recognition Campaign
KMB continued its support for the Ten Most Distinguished Artists Volunteer Recognition Campaign by being one of the major sponsors. Co-organised by RTHK and the Agency for Volunteer Service, the campaign theme encouraged families to join in volunteer service.
Corporate Afforestation Scheme
As an environmental-conscious company, KMB joined the Corporate Afforestation Scheme initiated by the Agriculture and Fisheries Department of the Hong Kong SAR Government to establish and maintain a woodland of 10,000 trees in Tai Lam Country Park for three years.
Mobile Information Technology Bus
KMB contributed a double-deck bus for use as a Mobile Information Technology Bus for the Pegasus Christian Social Service Organisation to carry out IT education programmes among schools and community groups.
International Day of Disabled Persons
KMB and LWB offered free rides to disabled persons and their care givers on 6 December 1998 in support of the International Day of Disabled Persons.
Asian Games
KMB provided an open-top double-deck bus and five Trident buses for a bus parade to celebrate and recognise the achievements of the Hong Kong athletes in the 13th Asian Games on 23 December 1998.
LONG WIN BUS COMPANY LIMITED ("LWB")
In addition to the two bus routes for North Lantau and the Hong Kong International Airport that were introduced in 1997, LWB introduced 11 new routes between April and July 1998 to cater for the development of Tung Chung, the new town being built near the airport, and the opening of the new international airport. Among those were two Airbus routes for Tsuen Wan and Sha Tin. A special all-night route was introduced in November 1998 while a new Airbus route plying between North District and the Airport began operation in January 1999.
At present, LWB's young fleet consists of 160 air-conditioned double-deck buses servicing Tung Chung and the airport. Of these, 150 are super-low floor buses with wheelchair access and many of the features recommended by the Disabled Persons Transport Advisory Committee (DPTAC) of the United Kingdom. The Company took delivery of 138 such buses in 1998, of which 25 are airport coaches. All LWB buses have been equipped with the Octopus Smart Card system.
The bus servicing site at Tung Chung Town Centre and the depot at Siu Ho Wan on Lantau Island began operation in June and December 1998, respectively. The two facilities provide support services including refuelling, coin collection, bus washing, routine maintenance and parking for the fleet.
LWB's Customer Service Centre at the airport meeters and greeters hall and its ticketing booth at the airport ground transportation centre bus station provides passenger information, coin change and ticket sales services. A next-stop display and announcement system has been installed on the buses of two of LWB's Airbus routes.
Total ridership for the year was 14.4 million passenger trips. With 14 routes in full operation, the ridership for December 1998 was 1.6 million passenger trips, or a daily average of 51,500. This figure places LWB as the largest bus operator serving North Lantau and the airport.
The Future
The ongoing development of Tung Chung New Town and the airport will mean further development of bus services in the year ahead. The Government's plan for new towns in the New Territories means a steady increase in the population of the LWB operating area where we have a competitive edge in direct routes and attractive pricing. With continued commitment to efficient, comfortable and high quality transport, LWB is firmly establishing itself as an integral part of the community.
SUN BUS LIMITED ("SB")
Sun Bus Limited, one of the business units in the Non-Franchised Transport Operations Division in the Group, began operations on 1 January 1998 in Sha Tin and Sheung Shui.
Its mission is to offer non-franchised bus services that meet passenger needs and provide good value for money. Its goal is to become one of the leading operators in the non-franchised bus sector in Hong Kong.
In 1998, SB's non-franchised bus services focused on the 'residential', 'commercial' and 'employee' segments of the market which represent major housing estates, commercial areas and employers. By year-end, it operated 17 routes using some 60 new single-deck air-conditioned buses with customised headway, service hours, routing and seating.
Routes cover urban and sub-urban areas throughout Hong Kong, Kowloon and the New Territories including the new airport, large residential estates, shopping centres and major employers. Most of these routes are on a long-term contract basis reflecting the trust and confidence that service principals and passengers have in SB's reliable, flexible and quality services.
To establish its position in this market, SB maintains its competitiveness by emphasing high productivity, flexibility and efficiency. The rganisation has less than 80 full time employees.
The Future
The upward trend in demand for residential, commercial and employee bus services in areas with no direct mass transit link is expected to continue in future years. SB will capitalise on this by expanding its presense in this market. Some 60 newly designed air-conditioned buses with attractive and increased comfort features have been included in its first order in 1999 to further strengthen its competitive edge.
JOINT VENTURES
This was the second year of successful operation of the co-operative joint venture between HK Macau Ltd, a subsidiary of the Group, and Dalian City No. 1 Bus Company deploying 47 double-deck and 30 single-deck buses in Dalian, China.
Since March 1997, KMB has helped ease heavy passenger traffic between Hong Kong and Shenzhen via the Lo Wu border crossing with Mainland China by providing cross-border shuttle bus services between the Lok Ma Chau border crossing and Huanggang. This has been accomplished through a 50:50 equity joint venture between a subsidiary of the Group and a Shenzhen based counterpart selected by the Mainland authorities.
---
Source: The Kowloon Motor Bus Holdings Limited
---
---
© Copyright 1996-2013 irasia.com Ltd. All rights reserved.
DISCLAIMER: irasia.com Ltd makes no guarantee as to the accuracy or completeness of any information provided on this website. Under no circumstances shall irasia.com Ltd be liable for damages resulting from the use of the information provided on this website.
TRADEMARK & COPYRIGHT: All intellectual property rights subsisting in the contents of this website belong to irasia.com Ltd or have been lawfully licensed to irasia.com Ltd for use on this website. All rights under applicable laws are hereby reserved. Reproduction of this website in whole or in part without the express written permission of irasia.com Ltd is strictly prohibited.
TERMS OF USE: Please read the Terms of Use governing the use of our website.