The Kowloon Motor Bus Holdings Limited
---
Notes on the Scheme of Control Statement
1. The financial operations of the Company are governed by a Profit Control Scheme, the main features of which are as follows:
a. The annual Permitted Return of the Company is calculated at 16% of the average net fixed assets, including spare parts and stores used for bus operations.
b. Any difference between the annual Permitted Return, and the adjusted profit after taxation is to be transferred to or from a Development Fund.
c. The following are to be deducted from the Permitted Return:
(i) a charge of 8% p.a. on the average balance of the Development Fund which is to be added to the Development Fund, and
(ii) interest up to a maximum of 8% p.a. on borrowed capital.
d. The operation of the Scheme commenced on 1 September 1975 and was terminated on 31 August 1997. Pursuant to a new Franchise granted to the Company, which become effective on 1 September 1997, the Scheme of Control would no longer be applicable and no development fund account would be required to be maintained in the Company's accounts. It has been agreed between the Hong Kong Special Administrative Region Government and the Company that the accumulated shortfall of Permitted Return amounting to HK$56 million on 31 August 1997 should be regarded as extinguished upon the expiry of the previous franchise.
2. Profit and Loss Account of the Company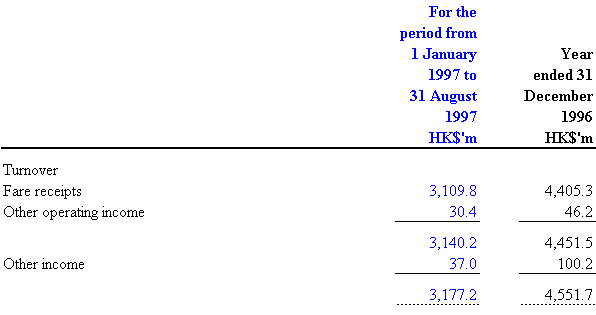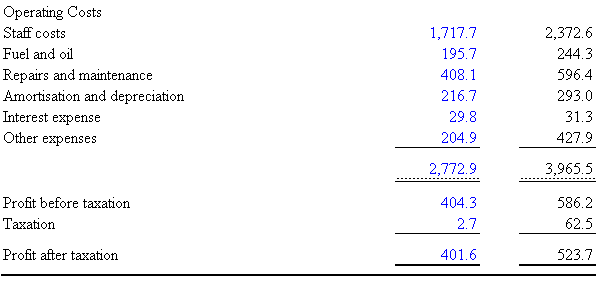 3. Items not ranking for Scheme of Control
Items not ranking for Scheme of Control represent all other net income which is not generated from franchised bus operation of the Company. They mainly include interest income (excluding interest earned from bus insurance deposit) and income from disposal of fixed assets.
4. Development Fund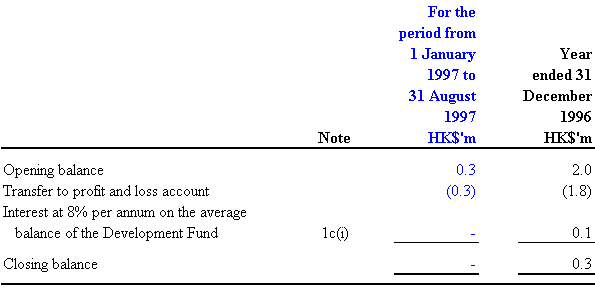 5. The Permitted Return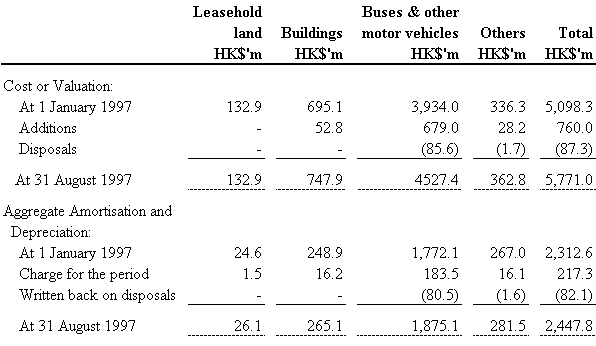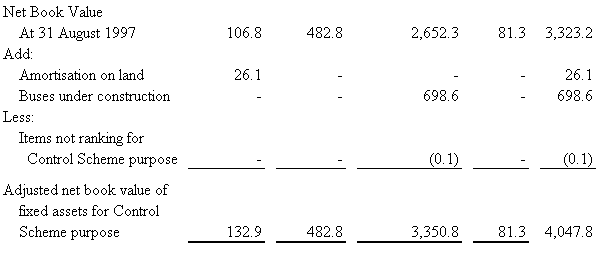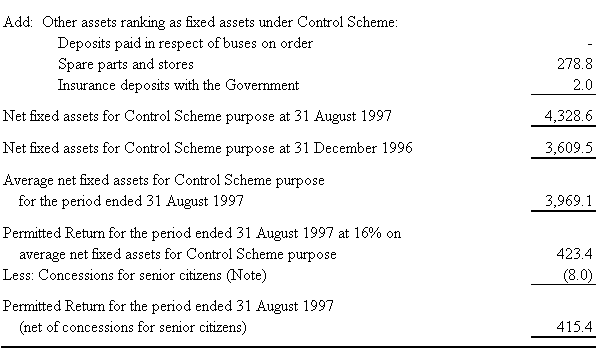 Note:
As a result of the implementation of concessionary fares to senior citizens in 1993, a sum of HK$8 million has been deducted from the Permitted Return.
---
---
© Copyright 1996-2013 irasia.com Ltd. All rights reserved.
DISCLAIMER: irasia.com Ltd makes no guarantee as to the accuracy or completeness of any information provided on this website. Under no circumstances shall irasia.com Ltd be liable for damages resulting from the use of the information provided on this website.
TRADEMARK & COPYRIGHT: All intellectual property rights subsisting in the contents of this website belong to irasia.com Ltd or have been lawfully licensed to irasia.com Ltd for use on this website. All rights under applicable laws are hereby reserved. Reproduction of this website in whole or in part without the express written permission of irasia.com Ltd is strictly prohibited.
TERMS OF USE: Please read the Terms of Use governing the use of our website.