Swire Pacific Limited
---
| | |
| --- | --- |
| For immediate release | 11th August 2022 |
Swire Pacific's recurring underlying profit increased 59% in the first half of 2022
Resilient performance despite challenging environment
Exciting expansion at Swire Properties and Swire Coca-Cola
Losses reduced at Cathay Pacific
15% increase in first interim dividends
---
11th August 2022, Hong Kong - The first six months of 2022 were challenging, with the continuing impact of COVID-19 on our businesses, inflation and increased economic uncertainty. However, 2022 is also proving to be a year of exciting expansion for Swire Properties and Swire Coca-Cola. Despite everything, our diverse portfolio of businesses was resilient.
Swire Pacific recorded an underlying profit of HK$1,729 million in the first half of 2022, compared with HK$1,256 million in the same period in 2021. Disregarding significant non-recurring items in both periods, the Group recorded a recurring underlying profit of HK$1,249 million in the first half of 2022, compared with HK$786 million in the first half of 2021. The higher recurring underlying profit was principally due to a reduction of losses at Cathay Pacific. The recurring underlying profit of the Property Division was solid. The recurring underlying profit of Swire Coca-Cola and HAECO group fell.
First interim dividends are HK$1.15 per 'A' share and HK$0.23 per 'B' share, an increase of 15% over the first interim dividends in 2021.
Below is a summary of the 2022 interim results: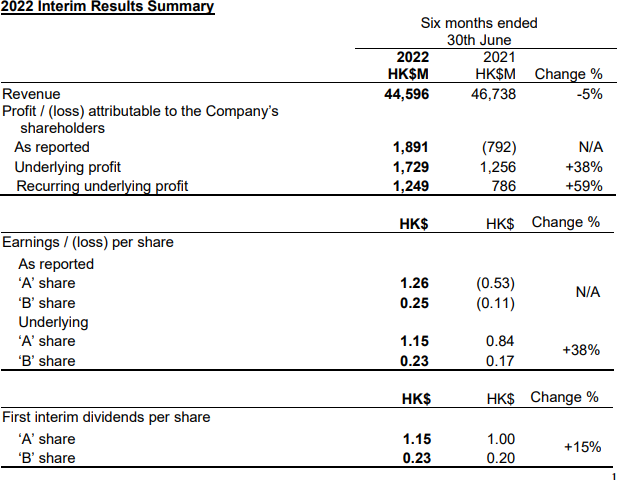 Commenting on the Group's strategic developments in the first half of the year, Guy Bradley, Chairman of Swire Pacific said, "In March, Swire Properties announced a HK$100 billion investment plan. HK$30 billion is allocated to Hong Kong to build out its investments in Taikoo Place and Pacific Place. Good progress has been made at Taikoo Place, with the newest Grade-A office tower, Two Taikoo Place, set to be completed later this year.
"The acquisition of the whole of Zung Fu Industrial Building and the application for planning permission for a number of buildings in Quarry Bay have put Swire Properties in a favourable position to continue its placemaking strategy at Taikoo Place and to strengthen Taikoo Place's position as a global business district.
"In accordance with its master plan for Pacific Place, Swire Properties will be expanding its Pacific Place portfolio over the next few years, taking advantage of Admiralty's growing connectivity and importance as a major transportation hub. Good progress has been made with the new Grade-A office tower near Three Pacific Place. The new tower will add approximately 218,000 square feet to the wider Pacific Place portfolio.
"50% of the Swire Properties' HK$100 billion investment plan is allocated to the Chinese Mainland. Swire Properties has announced its seventh mixed-use development in the Chinese Mainland - Taikoo Li Xi'an. The development is next to a UNESCO World Heritage site. Securing this investment speaks volumes for the trust Swire Properties has built up for the Taikoo Hui and Taikoo Li brands.
"A key focus for Swire Properties' future investment in the Chinese Mainland is the Greater Bay Area, given its rapid growth and strategic importance to Hong Kong. Last year, Swire Properties announced plans to develop a potential commercial project in the Julong Bay Area of Guangzhou. It also announced a new, luxury (third party owned) hotel in Shenzhen Bay which will be managed by Swire Hotels.
"In July 2022, Swire Coca-Cola conditionally agreed to acquire the Coca-Cola bottling businesses in Vietnam and Cambodia. Completion of the transactions will result in Swire Coca-Cola's owning and operating three bottling facilities in Vietnam and one bottling facility in Cambodia and increasing its franchise population by 15% to 876 million people. We are very excited by this, the first investment by Swire Coca-Cola in South East Asia. The investment will give Swire Coca-Cola access to two fast growing beverage markets. Completion conditions include anti-trust approvals. Subject to satisfaction of the conditions, completion is expected to take place in the fourth quarter of 2022."
"On the healthcare front, despite COVID-19 related preventive measures in Shanghai and Shenzhen in the second quarter, overall, we saw good momentum across our investment portfolio. Shenzhen New Frontier United Family Hospital opened in May 2022."
On the Group's prospects in the second half, Mr Bradley said, "Short-term challenges remain. But we are optimistic about our medium and long-term prospects. We continue to pursue new opportunities in the Chinese Mainland, leveraging the Taikoo Hui and Taikoo Li brands. In Hong Kong, the decentralisation trend continues to strengthen Taikoo Place's position as a global business district. Swire Coca-Cola's expansion into South East Asia bodes well for future growth. Any further adjustments to COVID-19 related travel and quarantine restrictions should benefit Cathay and the HAECO group."
The divisional highlights of the 2022 Interim Results are at the Appendix.
Appendix - Divisional Highlights of Swire Pacific 2022 Interim Results:
Property Division
Attributable underlying profit, which principally adjusts for changes in the valuation of investment properties, decreased by HK$304 million to HK$3,378 million. The decrease principally reflected the reduction in profit from the sale of car parking spaces in Hong Kong.
Recurring underlying profit in the first half of 2022 (which excludes the profit from divestment aggregating HK$407 million, and HK$653 million in the first half of 2021) was HK$2,971 million, compared with HK$3,029 million in the first half of 2021. The decline mainly reflected lower retail rental income from Hong Kong, which was adversely affected by the fifth COVID-19 wave in the first quarter, and higher operating costs. This more than offset higher retail rental income from the Chinese Mainland.
The small underlying loss from property trading in the first half of 2022 primarily resulted from sales and marketing expenses at EIGHT STAR STREET in Hong Kong.
Losses at hotels increased as hotels in Hong Kong and the Chinese Mainland continued to suffer from COVID-19 and associated travel restrictions.
Beverages Division
Swire Coca-Cola made an attributable profit of HK$1,152 million in the first half of 2022, a 22% decrease from the first half of 2021. The results were adversely affected by COVID-19 related travel and social restrictions in the Chinese Mainland, Hong Kong and Taiwan, and by higher raw material costs.
Total revenue (including that of a joint venture company and excluding sales to other bottlers) increased by 0.5% to HK$26,592 million.
Sales volume decreased by 8% to 896 million unit cases.
Profits increased by 34% and revenue grew by 13% in the USA. In the Chinese Mainland and Hong Kong, revenue and volume declined. Revenue grew but volume declined in Taiwan.
Aviation Division
Cathay Pacific Group
The Cathay Pacific group's attributable loss on a 100% basis was HK$4,999 million in the first half of 2022 (2021 first half: loss of HK$7,565 million). The reduction occurred despite the continuing adverse effect of COVID-19 and significantly weaker results from associates.
The first few months were very difficult. Adjustments to COVID-19 restrictions from 1st May permitted an increase in capacity and improved performance.
The cargo business was strong, but load factors were slightly lower. There was a full freighter schedule from June.
Passenger capacity improved in the second quarter, but only to 11% of pre-COVID-19 levels.
Progressive resumption of flights helped to reduce cash burn. The business became cash positive in the second quarter.
HAECO Group
The HAECO group reported an attributable profit of HK$166 million in the first half of 2022, compared with HK$310 million in the first half of 2021.
Profit decreased principally due to the absence of financial assistance provided by the US government in the first half of 2021. Disregarding this non-recurring item, HAECO group's profit increased. This reflected a recovery in demand for engine overhaul and more airframe base maintenance.
Line maintenance in Hong Kong remained weak.
- End -
About Swire Pacific Limited
Swire Pacific (HKEX: 00019/00087) is a Hong Kong-listed international conglomerate with a diversified portfolio of market leading businesses. The company has a long history in Greater China, where the name Swire or Taikoo (太古) has been established for over 150 years. Swire Pacific's strategy is focused on Greater China and South East Asia, where we seek to grow our core businesses of Property, Beverages, and Aviation, as well as new areas of growth such as healthcare and sustainable foods. Swire Pacific is the largest shareholder in two other listed companies in Hong Kong: Swire Properties Limited and Cathay Pacific Airways Limited. Swire Pacific is listed on the Hang Seng Corporate Sustainability Benchmark Index, Dow Jones Sustainability Asia Pacific Index and MSCI All Country World Index (ACWI) ESG Leaders Index.
Visit Swire Pacific's website at www.swirepacific.com
For media enquiries, please contact:
Ms Agnes Yeung
Manager Group Public Affairs, Swire Pacific Limited
Tel: (852) 2840 8077 / (852) 9102 7163
Email: agnesyeung@jsshk.com
Disclaimer
This document may contain forward-looking statements that reflect the Company's beliefs, plans or expectations about the future or future events. These forward-looking statements are based on a number of assumptions, estimates and projections, and are therefore subject to inherent risks, uncertainties and other factors beyond the Company's control. The actual results or outcomes of events may differ materially and/or adversely due to a number of factors, including the effects of COVID-19, changes in the economies and industries in which the Group operates (in particular in Hong Kong and the Chinese Mainland), macro-economic and geopolitical uncertainties, changes in the competitive environment, foreign exchange rates, interest rates and commodity prices, and the Group's ability to identify and manage risks to which it is subject. Nothing contained in these forward-looking statements is, or shall be, relied upon as any assurance or representation as to the future or as a representation or warranty otherwise. Neither the Company nor its directors, officers, employees, agents, affiliates, advisers or representatives assume any responsibility to update these forward-looking statements or to adapt them to future events or developments or to provide supplemental information in relation thereto or to correct any inaccuracies. References in this document to Hong Kong are to Hong Kong SAR, to Macau are to Macao SAR and to Taiwan are to the Taiwan region.
For more information, please visit https://doc.irasia.com/listco/hk/swire/interim/2022/intpress.pdf.
---
Source: Swire Pacific Limited
---
---
© Copyright 1996-2022 irasia.com Ltd. All rights reserved.
DISCLAIMER: irasia.com Ltd makes no guarantee as to the accuracy or completeness of any information provided on this website. Under no circumstances shall irasia.com Ltd be liable for damages resulting from the use of the information provided on this website.
TRADEMARK & COPYRIGHT: All intellectual property rights subsisting in the contents of this website belong to irasia.com Ltd or have been lawfully licensed to irasia.com Ltd for use on this website. All rights under applicable laws are hereby reserved. Reproduction of this website in whole or in part without the express written permission of irasia.com Ltd is strictly prohibited.
TERMS OF USE: Please read the Terms of Use governing the use of our website.