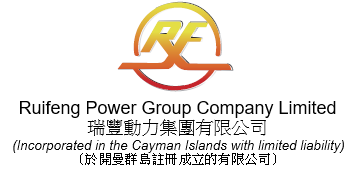 ---
Corporate Profile

Ruifeng Power Group Company Limited (the "Company" and, together with its subsidiaries, the "Group") is a specialized manufacturer of cylinder blocks, a major structure in automobile engines, based in Shenzhou, Hebei, the PRC.
Production of cylinder blocks in China has historically been split between internal production by manufacturers of automobiles and automobile engines and external outsourcing to specialized producers of automobile engine spare parts. The large-scale of our operations and significant production capacity allow us to secure the use of our products by some of the leading automobile manufacturers in China such as Jiangling Motors, Beiqi Foton Motor, Jiangxi Isuzu, JAC Motors and Great Wall Motors. During the year ended 31 December 2017, we owned and operated a total of three precision casting lines and 20 mechanical processing lines (including 16 for cylinder blocks, 2 for cylinder heads and 2 for other ancillary cylinder block components), with a designed production capacity of approximately 1,011,000 cylinder blocks and 164,000 cylinder heads, respectively.
THE MAIN PRODUCTS ARE:
Cylinder Block - A main structure of the automobile engine in which combustion of fuel takes place. It provides space for the required number of cylinders along with the associated surrounding structures, including coolant passages, intake and exhaust passages and crankcases. As a central component of an automobile engine, defect acceptance levels for cylinder blocks need to be very low as it directly affects the engine performance, life and other important indicators.
Cylinder Head - A major component of the engine which sits on top of the cylinder block and provides space for passages that feed air and fuel into a cylinder and allow the exhaust to escape. A cylinder head has to withstand high pressure and high temperatures while retaining its shape and form to seal the cylinder block via the head gasket.
Ancillary Cylinder Block Components - including main bearing cap and flywheel. Main bearing caps are used in piston engines to secure the crankshaft against the cylinder block. Our main bearing caps help prevent the forces created by the piston and transmitted to the crankshaft by forcing the crank to convert the reciprocating movement into rotation. A flywheel is designed to keep the crankshaft in the cylinder block turning smoothly during the periods when no power is being applied. Our flywheels are easy to install and highly resistant to rust and corrosion.
We believe that our following competitive strengths can bring our customers the most economical and reliable products:
The fourth largest specialized manufacturer of cylinder blocks and an established producer of cylinder heads in China
A high level of flexibility in production facilities and process to meet the specific needs of different customers
Continuous optimization and innovation of production process and technologies
Strong design and research and development capabilities
updated 1st June, 2018
---
---
© Copyright 1996-2018 irasia.com Ltd. All rights reserved.
DISCLAIMER: irasia.com Ltd makes no guarantee as to the accuracy or completeness of any information provided on this website. Under no circumstances shall irasia.com Ltd be liable for damages resulting from the use of the information provided on this website.
TRADEMARK & COPYRIGHT: All intellectual property rights subsisting in the contents of this website belong to irasia.com Ltd or have been lawfully licensed to irasia.com Ltd for use on this website. All rights under applicable laws are hereby reserved. Reproduction of this website in whole or in part without the express written permission of irasia.com Ltd is strictly prohibited.
TERMS OF USE: Please read the Terms of Use governing the use of our website.