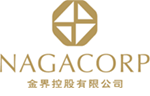 NagaCorp Ltd.
(Incorporated in the Cayman Islands with limited liability)
---
Corporate Profile

NagaCorp owns, manages and operates the largest integrated gaming and entertainment hotel complex in Cambodia - NagaWorld. NagaWorld is the only licensed casino in the capital city of Phnom Penh. NagaWorld features a world-class 700-room hotel, 19 food and beverage outlets, and entertainment outlets.
NagaWorld is also widely recognized as a popular meetings, incentives, conventions and exhibitions ("MICE") facilities destination in the Mekong Region. This includes 25,000 square meters of meeting and ballroom space, a stand-alone 6,500 square-meter ballroom, a 60-seat auditorium, and an exhibition space. There are also four luxury boutiques in NagaWorld, namely Cartier, Rolex, Mont Blanc and Omega.
At the June 2015, NagaWorld had 262 gaming tables and 1,600 electronic gaming machines in operation. With a built-up area of 113,307 square meters, NagaWorld's size and facilities position it as the leading integrated gaming and entertainment destination in the Mekong Region.
Today, NagaWorld attracts a broad range of guests from the free-spirited holiday-maker seeking a comfortable refuge to the intrepid world traveller and even the entertainment connoisseur.
The Company was incorporated in the Cayman Islands and has its principal place of business at NagaWorld Building, Samdech Techo Hun Sen Park, Phnom Penh, Kingdom of Cambodia.
updated 26th January, 2016
---
---
© Copyright 1996-2019 irasia.com Ltd. All rights reserved.
DISCLAIMER: irasia.com Ltd makes no guarantee as to the accuracy or completeness of any information provided on this website. Under no circumstances shall irasia.com Ltd be liable for damages resulting from the use of the information provided on this website.
TRADEMARK & COPYRIGHT: All intellectual property rights subsisting in the contents of this website belong to irasia.com Ltd or have been lawfully licensed to irasia.com Ltd for use on this website. All rights under applicable laws are hereby reserved. Reproduction of this website in whole or in part without the express written permission of irasia.com Ltd is strictly prohibited.
TERMS OF USE: Please read the Terms of Use governing the use of our website.