Ports and Related Services
With the experience gained as the operator of Hongkong International Terminals, the world's largest independently owned container terminal, the Group has increasingly extended its expertise to Mainland China as well as several other countries around the world.
Profits from the Group's port and related services totalled HK$3,097 million (1996 - HK$2,369 million). As the world's biggest independent port operator, Hutchison Port Holdings has invested in 17 ports, operates 79 berths and handles about 10% of global container traffic. Combined throughput at all operations rose 16.3% to 13.1 million TEUs.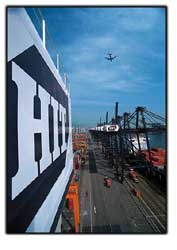 Hong Kong
The Group's 85% owned Hongkong International Terminals Limited (HIT) recorded strong growth with throughput totalling 5.1 million TEUs, an increase of 13.1% over 1996. HIT, the world's largest privately owned container port facility, operates Terminals 4, 6 and 7 at Kwai Chung and the Group has an effective 42.5% interest in Terminal 8 East. Combined throughput from both operations totalled 6.4 million TEUs, an increase of 13% over 1996.
Mid-Stream Holdings Limited performed satisfactorily during the year and the Group's interest was increased to 95.5%, thereby enabling the Group to offer its clients a wider range of services while enhancing efficiency and administration.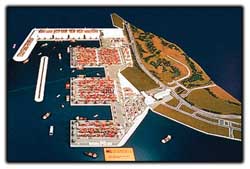 Satisfactory progress has been made by The River Trade Terminal Company (33% owned) in the development of an 8.5 million tonnes per year facility. The terminal is expected to begin operation late this year, and it will serve the water borne trade between the Pearl River Delta and Hong Kong.
Hongkong United Dockyards, (50% owned), experienced a difficult year due to high volatility in the ship repair industry. Steps have been introduced to minimise operating costs, where possible, in this sector. On the other hand, its land engineering operations performed satisfactorily.
Fifty per cent owned Hongkong Salvage & Towage had another satisfactory year, with satisfactory growth in gross revenues and profit. The company is well positioned for further growth as two more waste disposal container vessels are brought into service this year on 15 year government contracts.

Mainland China
Throughput at the Group's 40% owned Shanghai Container Terminals Limited rose 22.8% to more than 1.7 million TEUs during the year, fuelled by the growing demand for the port's services by foreign flagship carriers. Comprising 10 container berths, the facility is one of Mainland's most modern and has an annual capacity of 2 million TEUs.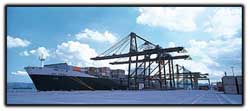 Yantian International Container Terminals (YICT) recorded a strong performance, with total throughput at 638,000 TEUs, up 80.6% from 1996. Construction of YICT's HK$4.7 billion second phase is underway and, when completed in 1999, YICT will have six container berths and will be one of the largest deep water container terminals in Southern China.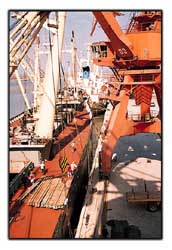 Hutchison Delta Ports (HDP), the Group's wholly owned subsidiary which invests in, develops and operates river and coastal ports in the Mainland, performed satisfactorily, with combined throughput totalling 520,000 TEUs, an increase of 22.1% over 1996. Construction of the Shantou and Xiamen ports has been completed and both facilities commenced operations during the year. With these new facilities, HDP now has a total of six operating joint venture ports in the Mainland.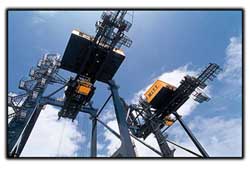 Myanmar
In line with Myanmar joining ASEAN in 1997, and to better position itself to capture the growth potential of the container port facility at Thilawa (Yangon), the Group increased its holdings in the facility to 80%.

Indonesia
As a result of the recent financial turmoil in Indonesia, the government's review of infrastructural projects, including the new container port at Bojonegara, is still underway and therefore construction has yet to commence.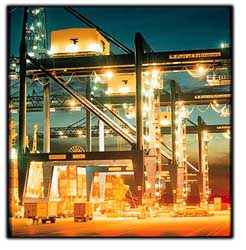 Europe
The Port of Felixstowe, in which the Group now has an effective 90% interest, had another very satisfactory year, consolidating its ranking as the UK's leading container facility with an 11.8% rise in throughput to 2.2 million TEUs. As part of a five year, £ 100 million modernisation programme, the port has ordered a range of advanced new equipment to enhance operational efficiency and productivity. Felixstowe comprises three terminals: Trinity III, which can handle up to seven of the largest container vessels at any one time; Landguard, which provides deep-sea and feeder services; and Dooley, which is one of the UK's busiest terminals for roll-on roll-off traffic.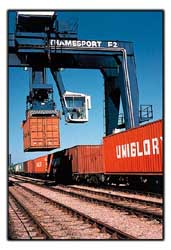 The Group's 90% owned subsidiary, Hutchison Ports (UK) Limited, recently expanded its port operations in the UK with the acquisition of Thamesport container port. Thamesport is currently in the final stages of an expansion programme which will increase its annual capacity to about 600,000 TEUs. The port serves some of the world's leading shipping lines and offers connections between Europe and its major trading partners. The acquisition includes Maritime Haulage, a national road haulage operator.
The Group has also entered into an agreement to purchase Harwich International Port, which should further strengthen the Group's position in the UK port market.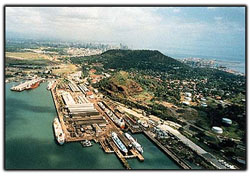 The Americas and The Caribbean
The Group acquired the concession to operate two ports in Panama, Balboa and Cristobal, which are located at opposite ends of the Panama Canal, and at the year end held an effective 72% interest. Major redevelopment of the Balboa facility, which will be the hub port on the Pacific end of the Panama Canal, will commence this year. When the upgrading of both ports is completed, they will have a combined throughput capacity of 650,000 TEUs.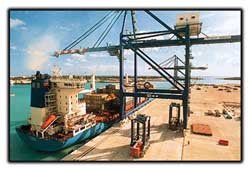 The new two berth Freeport Container Port on Grand Bahama Island in which the Group now has an effective 45% interest was officially opened in July and is operating satisfactorily.
HPH also acquired a 50% interest in the Grand Bahama Airport Company, which comprises an 11,000 foot long runway capable of handling the world's biggest aircraft. This investment also includes a 780 acre tract of land between the airport and container port. Plans are being prepared to develop this into an industrial park which will also contain a sea/air business centre.
Copyright 2001 © Hutchison Whampoa Limited. All rights reserved.