Ports and Related Services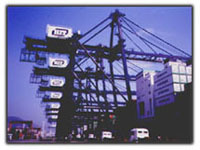 The Group is one of the world's leading operators of container ports, with interests in Hong Kong, China, the UK and other countries. Other activities of this division include ship repair, salvage and towage services.
Profits from the Group's ports and related services activities in 1996 amounted to HK$2,369 million (1995 - HK$2,201 million). Combined throughput at all operations rose 10.2% to I1,286,881 TEUs. The size of the Group's international network of container port facilities was enlarged during the year, and further opportunities are being explored.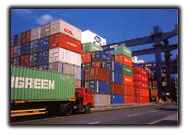 Asia
HongKong
Despite structural changes affecting the international shipping industry, throughput at the Group's 77.5% owned Hongkong International Terminals Limited ("HIT") facility in Hong Kong rose 10.3% to 4.5 million TEUs. The world's largest privately owned container facility, HIT operates Kwai Chung terminals 4, 6 and 7 and has a 50% interest in the adjacent Terminal 8 East, which recorded throughput of1.1 million TEUs during the year. combined throughput from both operations rose 7.2% to 5.6 million TEUs.
The final phase of HIT's successful Productivity Plus Programme was implemented during the year, increasing HIT's (rapacity to over five million TEUs.
During the year, HIT was also awarded the rights to develop, commissiun and operate two berths at terminal 9 on Tsing Yi Island, construction of this facility should begin next year with completion of the first berth scheduled for the year 2000.
Mid-Stream Holdings Limited operated profitably during the year, registering a 5% increase in throughput to 1.4 million TEUs. The Group's interest in Mid-Stream Holdings was increased this year from 50% to 75.5%.
The River Trade Terminal Company ("RTTC"), in which the Group holds a 33% interest, was awarded the rights to develop a 65-hectare Tuen Man site into an 8.5 million-tonnes-a-year facility. The first phase of this project is expected to be completed by late 1998, with the remainder of the terminal to become operational by 2000. RTTC will provide a wider range of services, including container and breakbulk operatiun and storage, transhipment, niarine shuttle services, CFS warehousing and container maintenance and repair.
Operating in a depressed ship repair industry, Hongkong United Dockyards, a 50% owned associate, had a disappointing year. Confronted by excess capacity worldwide, the company spent a difficult year competing for both bookings and revenue. However, the sale of its smallest floating dock, the relocation of the offices of Hongkong Salvage & Towage to its premises, and an improved yield from its land engineering operations all contributed to a boost in its operating profit for the year.
Hongkong Salvage & Towage (50% owned) had another profitable year and continued to benefit from the growth in shipping movements in Hong Kong, especially in the container sector. During the year, one of its older tugs was profitably sold and the company took delivery of the two new container vessels required for its second waste disposal contract in Hong Kong.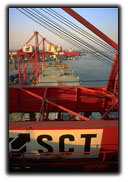 China
Assisted by the completion of an extensive modernisation programme, throughput at the Group's 40% owned Shanghai container Terminals Limited grew 11.2% during the year to 1.4 million TEUs. Comprising 10 container berths, the facility has an annual capacity of 1.7 million TEUs, construction of a new headquarters building is on schedule and is expected to be completed by the third quarter of 1997.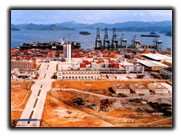 Yantian International Container Terminals ("YICT") matte good headway in its goal of becoming a major international shipping port. Throughput at the facility, which is 43.6% owned by the Group, rose to 353,509 TEUs during the year, suppurted by the signing of contracts with six international shipping lines. In December, the port celebrated the groundbreaking for the HK$4.7 billion second phase of its development. When completed in 1999, the expansion will increase the port's capacity to two million TEUs a year and give Yantian the ability to simultaneously handle up to six container vessels. A weekly block train service linking Yantian with Changsha was introduced in September, enhancing the port's connections with other cities in China.
Wholly owned subsidiary Hutchison Delta Ports ("HDP"), which invests in, develops and operates river and coastal ports in China, had another satisfactory year of operations, with combined throughput rising 19.9% to 425,779 TEUs for the year. In December, HDP increased the number of its ports to six by signing a contract for the establishment of a new facility in Xiamen. This latest addition is expected to begin operations in the second quarter of 1997 and will coincide with the completion of construction of HDP's port in Shantou, which was acquired in 1995.
Myanmar
The Group has a 20% interest in a newly completed container port facility at Thilawa (Yangon), Myanmar, and start-up operations have now commenced.

Indonesia
Hutchison International Port Holdings ("HPH") has recently signed a joint venture agreement to build and operate a container port at Indonesia's developing deep-sea port of Bojonegara. This port initiative was launched last september by the Indonesian Government.
Europe
The Port of Felixstowe Limited continued to consolidate its position as the UK's leading container port facility, increasing throughput by 6.9% to over two million TEUs. Felixstowe comprises three terminals: Trinity, which can berth up to seven of the largest container vessels; Landguard, which serves deep-sea and feeder operations; and Dooley, one of the country's busiest terminals for roll-on roll-off traffic.
The Americas and The Caribbean
The Group, through its subsidiary Panama Ports Company, has been awarded the concession to operate two ports in Panama, namely, Cristobal and Balboa, which are located at opposite ends of the Panama Canal. These ports were handed over to the Group effective 1 March this Year and will have a combined annual throughput capacity of more than 650,000 TEUs after improvements to the facilities have been completed.
Substantial progress has been made in the development of the initial two container berths at the strategically located port of Freeport, Grand Bahama Island. This new facility is scheduled to become operational early this year. HPH has a 50% interest in this port facility which also handles cruise lines calling regularly at Freeport.
Copyright 2001 © Hutchison Whampoa Limited. All rights reserved.