---
Corporate Profile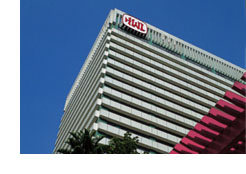 HWL is among the largest companies listed on the main board of the Hong Kong Stock Exchange. HWL has six core businesses - ports and related services, property and hotels, retail, infrastructure, energy and telecommunications.
Our diverse array of holdings ranges from some of the world's biggest port operators and retailers, to property development and infrastructure, to innovative and advanced telecommunications and data services.
HWL reported turnover of approximately HKD398 billion (USD51 billion) for the year ended 31 December 2012. Some of our achievements include being the world's leading port investor, developer and operator, the world's leading health and beauty retailer and a pioneer of leading-edge mobile multimedia telecommunications.
With roots in Hong Kong in the 1800s, HWL's operations now span the globe. The multicultural mix of our executives and staff reflects the diversity and reach of our operations.
HWL is dedicated to upholding the highest standards of corporate governance, transparency and accountability - a commitment which has been recognised through the receipt of numerous awards and commendations.
updated 2nd April, 2013
---
---
© Copyright 1996-2013 irasia.com Ltd. All rights reserved.
DISCLAIMER: irasia.com Ltd makes no guarantee as to the accuracy or completeness of any information provided on this website. Under no circumstances shall irasia.com Ltd be liable for damages resulting from the use of the information provided on this website.
TRADEMARK & COPYRIGHT: All intellectual property rights subsisting in the contents of this website belong to irasia.com Ltd or have been lawfully licensed to irasia.com Ltd for use on this website. All rights under applicable laws are hereby reserved. Reproduction of this website in whole or in part without the express written permission of irasia.com Ltd is strictly prohibited.
TERMS OF USE: Please read the Terms of Use governing the use of our website.