---
For photos, please click here.
HWL continues to support Hutchison Chevening Scholarships
(Hong Kong, 6 July 2012) Hutchison Whampoa Limited ("HWL") has pledged another contribution of over GBP500,000 to the Hutchison Chevening Scholarships this year, bringing HWL's total sponsorship to over GBP5.3 million to date.
The latest contribution will also mark a continuous sponsorship for 10 years by HWL since the Group started its support for this prestigious scholarships programme in 2002.
The new contribution will fund 48 outstanding young postgraduates from Hong Kong and Mainland China to pursue their further studies in major UK universities and institutions.
Speaking at a British Consulate-General reception welcoming the visiting UK Foreign and Commonwealth Office Minister Jeremy Browne, HWL Deputy Group Managing Director Susan Chow said HWL is proud to be able to co-operate with the FCO on this meaningful scholarships programme.
Mrs Chow said, "We are glad to see that the programme has been working so well and has grown to its present scale, benefitting our young generation."
She also encouraged the departing Chevening scholars to treasure their opportunities abroad, and the returning ones to make use of what they have learnt to contribute to the community.
Also speaking at the reception, Minister Browne thanked HWL for the Group's continuous sponsorship over the past decade.
Mr Browne said the FCO is fortunate to receive significant and generous support from its co-funding commercial organisations.
Also joining today's reception were British Consul-General Andrew Seaton and Chevening Scholars.
To date, the Hutchison Chevening Scholarships have allowed more than 620 scholars from Hong Kong and the Mainland to further equip themselves through postgraduate studies in the UK since the Group's sponsorship began in 2002.
###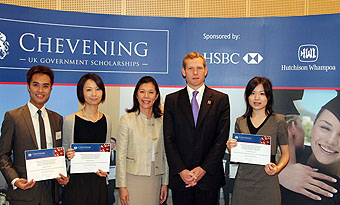 Download (960 KB)
1. Foreign Office Minister Jeremy Browne (second right) and HWL Deputy Group Managing Director Mrs Susan Chow (middle) with the Hutchison Chevening scholars (from left) Mr Gary Wong Chi-him, Ms Iris Wong Hiu-lam and Ms Amy Leung Wai-ting at the reception.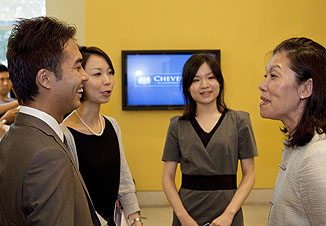 Download (1,006 KB)
2. Mrs Susan Chow shares a light-hearted chat with the departing Hutchison Chevening scholars, and encourages the scholars to treasure their opportunities abroad.


About Hutchison Whampoa Limited
Hutchison Whampoa Limited (HWL) is a leading international corporation committed to innovation and technology with businesses spanning the globe. Its diverse array of holdings range from some of the world's biggest port operators and retailers to property development and infrastructure to the most technologically-advanced and marketing-savvy telecommunications operators. HWL reports turnover of approximately HKD388 billion (USD50 billion) for the year ended 31 December 2011. With operations in 53 countries and over a quarter million employees worldwide, Hutchison has six core businesses - ports and related services; property and hotels; retail; infrastructure; energy and telecommunications.
For more information, please visit www.hutchison-whampoa.com
For media enquiries, please contact:

Jeremy Lau
Tel: (852) 2128 1207
Fax: (852) 2128 1766
Email: jeremyl@hwl.com.hk
---
Source: Hutchison Whampoa Limited
---
---
© Copyright 1996-2013 irasia.com Ltd. All rights reserved.
DISCLAIMER: irasia.com Ltd makes no guarantee as to the accuracy or completeness of any information provided on this website. Under no circumstances shall irasia.com Ltd be liable for damages resulting from the use of the information provided on this website.
TRADEMARK & COPYRIGHT: All intellectual property rights subsisting in the contents of this website belong to irasia.com Ltd or have been lawfully licensed to irasia.com Ltd for use on this website. All rights under applicable laws are hereby reserved. Reproduction of this website in whole or in part without the express written permission of irasia.com Ltd is strictly prohibited.
TERMS OF USE: Please read the Terms of Use governing the use of our website.