Hutchison Whampoa Limited
---

Hutchison Global Communications unveils "Net.me.Look" service
A user-friendly video telephony service with face-to-face communication & real feeling
May 27, 2003, Hong Kong - Fed up with complicated dialing procedures and missing video phone calls? Now, with the introduction of Hutchison Global Communications' (HGC) innovative and user-friendly "Net.me.Look" service, residential broadband users can finally make video phone calls with ease and pick up the calls anywhere.
Dubbed "Net.me.Look", the new Internet-based video application is HGC's landmark move to extend video telephony service from the corporate market to the residential users. Enjoying this novel service over HGC's optical fibre network, users can now experience the unparalleled seamless audio and visual communication over personal computers (PC).
Equipped with a user-friendly telephone dialing procedure and a unique call forwarding feature, "Net.me.Look" is the only service in Hong Kong that allows video telephony users to be always reachable. With this latest innovation from HGC, video telephony -- an already common utility for today's business environment -- will be a perfect match with the mobile lifestyle of many residential users.
Making a video phone call is as simple as literally "making a phone call"
"Net.me.Look" simplifies video telephony dialing procedures. Subscribers of "Net.me.Look" service may use an 8-digit "telephone" number to access real-time, face-to-face communications with high quality video and audio connection using a web-cam and software installed on a broadband-access PC. To make a video phone call, users just need to simply launch the video telephony software, and type in prefix 2080 with an 8-digit "telephone" number of another user.
"Picking up a video phone call" -- away from home
Thanks to the service's innovative design of converging voice and video, "Net.me.Look" users who are going to be away from their home PC can simply "call forward" any video phone calls¡Xto another PC, to a mobile phone or to a HGC fixed telephone line. They can pick-up the video phone call from their selected device without missing the call which is originally made to their video phone PC at home.
"Traditionally, using video telephony service at home is not user-friendly. A user may not be at home to pick up his video phone calls," said Steve Lam, Sales & Marketing Director of HGC. "With our 'Net.me.Look' service, video telephony users are able to pick-up video phone calls just like any other phone calls from anywhere."
"Today, Hutchison Global Communications provides ample symmetrical bandwidth of up to 10 Mbps to ensure video quality and performance for video phone calls. The launch of 'Net.me.Look' in Hong Kong clearly shows that HGC is at a leading edge of providing innovative applications to meet the new demands of Internet and mobile communications. HGC will continue to enhance our broadband service to enrich users' Internet experience," added Lam.
Not only to HGC broadband subscribers, but also available to ALL!
"Net.me.Look" service is also available to broadband users of any Internet Service Providers (ISPs). This new service can be optimized and tuned to support various ISPs' bandwidth environment and service quality.
By adopting advanced Gigabit Ethernet technology, HGC provides up to 10Mbps symmetrical transmission speed for data uploading and downloading, ensuring an optimal "Net.me.Look" service for a true video telephony with real-time audio and visual.
"Net.me.Look" service is now available from HGC. To start the service, users can simply visit www.netmelook.com to download the software or call hotline 2180 4722 to subscribe.
Users can choose between two monthly subscription plans:

###

Hutchison Global Communications
Hutchison Global Communications (HGC), a wholly owned subsidiary of the Hutchison Whampoa Group, owns and operates the largest full fibre-optic network in Hong Kong. With its unlimited scalability of bandwidth capacity from the global submarine cable systems and direct link to China Telecom's network, HGC provides connectivity to cities in Asia, the US and Europe.
Riding on the advanced fibre-optic technology, customers are able to enjoy its leading-edge services such as Ethernet symmetrical broadband access, corporate data transmission solutions, International Private Leased Circuit Service as well as local and overseas call services with total quality. Building on its strong local presence in Hong Kong, HGC is also planning strategically to gain a further foothold in the global marketplace. For more details, please visit www.hgc.com.hk

For more information, please contact:
Agnes Chan
Senior Manager - Public Relations
Hutchison Global Communications
Tel: (852) 2128-6708
Email: pr@hgc.com.hk
Susanna Muk
Ogilvy Public Relations Worldwide
Tel: (852) 2884-8584
Email: susanna.muk@ogilvy.com
---
Attachement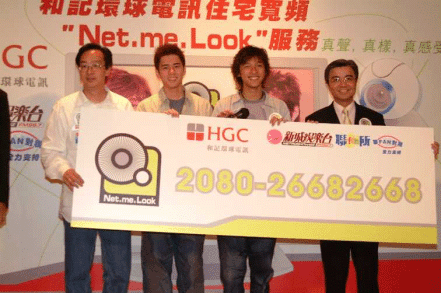 Steve Lam, Sales & Marketing Director of Hutchison Global Communications (First from right), presents the "Net.me.Look" telephone number to Daniel Chu, Program Director of Metro Showbiz (First from left) and SHINE, to signify the launch of the joint promotion with Metro Radio.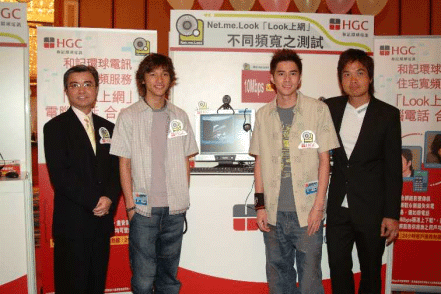 Mr Steve Lam, Sales & Marketing Director of Hutchison Global Communications (First from left), demonstrates the "Net.me.Look" service with SHINE.
---
Source: Hutchison Whampoa Limited
---
---
© Copyright 1996-2013 irasia.com Ltd. All rights reserved.
DISCLAIMER: irasia.com Ltd makes no guarantee as to the accuracy or completeness of any information provided on this website. Under no circumstances shall irasia.com Ltd be liable for damages resulting from the use of the information provided on this website.
TRADEMARK & COPYRIGHT: All intellectual property rights subsisting in the contents of this website belong to irasia.com Ltd or have been lawfully licensed to irasia.com Ltd for use on this website. All rights under applicable laws are hereby reserved. Reproduction of this website in whole or in part without the express written permission of irasia.com Ltd is strictly prohibited.
TERMS OF USE: Please read the Terms of Use governing the use of our website.