Hutchison Whampoa Limited
---
PRESS RELEASE
(To be distributed by email and fax with one photo, in total 3 pages)
PARKnSHOP bid to raise $1 million for Sars-affected children
Hong Kong (Tuesday, May 6, 2003) PARKnSHOP is launching a fundraising effort to raise money for local children affected by the Sars infection, and has set a target of $1 million.
In a two-week campaign which will run from May 8 to May 21, we hope will capture the Hong Kong community's spirit of generosity, PARKnSHOP will be working to raise money for the "We Care Education Fund" being managed by the Social Welfare Department.
The fund will be used to help fund the upbringing and education of those children who have lost one or both of their parents to Sars. The money will also go towards holidays, sports lessons and music tuition as the children grow up, in an attempt to make their childhood as normal as possible.
Most of the children affected are primary school age, while the youngest is only a few weeks old.
"Sars is something that has affected almost everyone in Hong Kong to some extent," said Mr Iwan Evans, CEO of A.S. Watson Group's Food, Electronics & General Merchandise Division, which operates PARKnSHOP.
"Unfortunately, the outbreak has brought not only uncertainty but immeasurable tragedy to many families, and at least 30 children have been orphaned by the disease," he said.
"PARKnSHOP wants to do something practical to demonstrate our sympathy with these families, and the deep sense of loss we share with the entire community."
The fundraising effort will work three ways. Firstly, PARKnSHOP will donate a percentage of all its Hong Kong sales from the first and the last day of the campaign, which will run from May 8 to May 21.
Secondly, customers will be encouraged to donate their loose change, and we are placing collection boxes at all the checkouts in our stores to help them do this.
Also, all PARKnSHOP staff will be urged to make donations. Many of our staff have told us how moved they have been by news of the children orphaned by Sars, so we are sure that they will give generously.
The "We Care Education Fund" was launched by senior government officials, who began by asking civil servants to give money, and then opened the fund to public donations. Director of Social Welfare Carrie Lam has said she hopes $10 million can be raised overall.
"We applaud the initiative of those in Government who launched the fund, and want to make a significant contribution towards it," Mr Evans said.
"If PARKnSHOP can raise $1 million, that will make a difference to these children's lives. We hope the whole community - our customers and our staff - will help us reach our target."
For more information, call PARKnSHOP Public Relations Manager Teresa Pang.
Media Hotline: 2687 5602
About PARKnSHOP
Established in 1973, PARKnSHOP is Hong Kong's leading supermarket chain. With its continuous commitment to innovation, quality, service and value, PARKnSHOP is well recognised by the industry and wider community through many awards.
PARKnSHOP was recently named Hong Kong's "Most Favoured Brand" in a global survey conducted by independent research house Ipsos-Reid - making it the only retailer in the world to take a top spot in the 22-country poll. In 2002, PARKnSHOP also won praise from Internet giant Yahoo! as "The Brand Yahoo! Users Trust the Most".
Our well-known "Fresh Check" and "PriceWatch" programmes guarantee customers the highest possible level of food safety and hygiene while maintaining the lowest prices in town, otherwise, refund double the difference.
PARKnSHOP now operates more than 200 outlets with about 9,000 employees in Hong Kong and Macau. Of those outlets, almost 50 are Superstores and Megastores.
PARKnSHOP is a member of the A.S. Watson Group (ASW), a wholly-owned subsidiary of Hutchison Whampoa Limited. With a history dating back to 1828, ASW has evolved into an international retail and manufacturing business with operations in 20 countries in Asia and Europe. The Group operates over 3,200 retail stores, owns more than 20 water and juice brands and employs more than 51,000 staff worldwide.
ENDS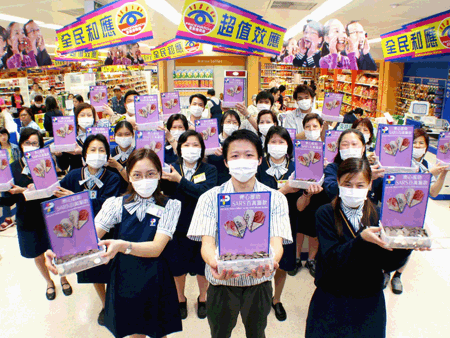 ---
Source: Hutchison Whampoa Limited
---
---
© Copyright 1996-2013 irasia.com Ltd. All rights reserved.
DISCLAIMER: irasia.com Ltd makes no guarantee as to the accuracy or completeness of any information provided on this website. Under no circumstances shall irasia.com Ltd be liable for damages resulting from the use of the information provided on this website.
TRADEMARK & COPYRIGHT: All intellectual property rights subsisting in the contents of this website belong to irasia.com Ltd or have been lawfully licensed to irasia.com Ltd for use on this website. All rights under applicable laws are hereby reserved. Reproduction of this website in whole or in part without the express written permission of irasia.com Ltd is strictly prohibited.
TERMS OF USE: Please read the Terms of Use governing the use of our website.