---
| | |
| --- | --- |
| For immediate release | 15 February 2011 |
GUOCO GROUP LIMITED
INTERIM RESULTS FOR THE SIX MONTHS ENDED 31 DECEMBER 2010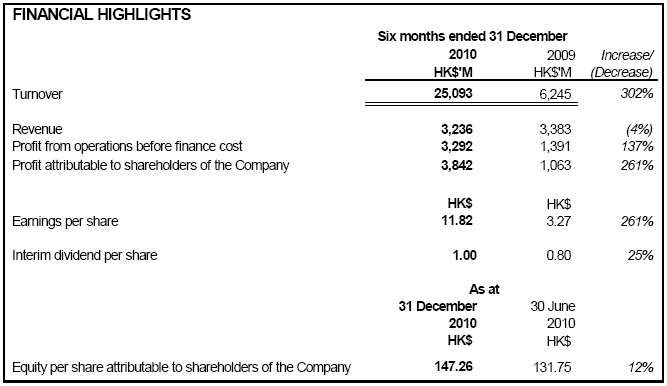 (15 February 2011, Hong Kong) Guoco Group (Guoco Group Limited, Stock Code: 53) announced today its interim results for the six months ended 31 December 2010.
FINANCIAL RESULTS
The unaudited consolidated profit attributable to shareholders for the six months ended 31 December 2010,after taxation and non-controlling interests, amounted to HK$3,842 million, representing an increase of 261%over that of previous corresponding period of HK$1,063 million. Earnings per share comes to HK$11.82.
GUOCO GROUP LIMITED
INTERIM RESULTS FOR THE SIX MONTHS ENDED 31 DECEMBER 2010
The major profit contributions (before taxation) were from the following:
property development and investment of HK$293 million;
hospitality and leisure business of HK$349 million;
total net exchange gain (including foreign exchange contracts) of HK$277 million;
total interest income of HK$100 million;
total realised and unrealised gain on trading financial assets of HK$2,238 million;
dividend income of HK$173 million;
contributions from associates and jointly controlled entities of HK$810 million;
and set off by finance cost of HK$223 million.
Revenue decreased by 4% to HK$3.2 billion. The decrease was mainly attributable to the decrease in property development and investment sector of HK$469 million (26%), net off by increase in hospitality and leisure sector of HK$293 million (21%).
INTERIM DIVIDEND
The Directors have declared an interim dividend of HK$1.00 per share for the financial year ending 30 June 2011.
GUOCO'S CORE BUSINESSES
Principal Investment
Notwithstanding mixed economic signals such as high unemployment in the US and renewed sovereign debt concerns in parts of Europe, equities advanced higher in the second half of 2010 after a sluggish first half. Sentiment was supported by ample liquidity, continued corporate earnings growth and improved economic data. A second round of quantitative easing by the US Fed further strengthened markets. However, inflationary pressure started to surface in a number of emerging economies. In particular, China quickly implemented interest rate and banks' reserve requirement hikes to cool down its economy. This led to an under-performance in the Hong Kong and China markets.
Guoco Group took advantages of rallies in equity prices by realizing profits in its trading positions. It expects equity prices to maintain an upward trend although volatility will continue.
For more information, please visit http://www.irasia.com/listco/hk/guoco/press/p68897-e_pressrelease(eng).pdf.
---
Source: Guoco Group Limited
---
---
© Copyright 1996-2013 irasia.com Ltd. All rights reserved.
DISCLAIMER: irasia.com Ltd makes no guarantee as to the accuracy or completeness of any information provided on this website. Under no circumstances shall irasia.com Ltd be liable for damages resulting from the use of the information provided on this website.
TRADEMARK & COPYRIGHT: All intellectual property rights subsisting in the contents of this website belong to irasia.com Ltd or have been lawfully licensed to irasia.com Ltd for use on this website. All rights under applicable laws are hereby reserved. Reproduction of this website in whole or in part without the express written permission of irasia.com Ltd is strictly prohibited.
TERMS OF USE: Please read the Terms of Use governing the use of our website.