Guoco Group Limited
Announcement of 1996/97 Final Results
---
RESULTS
The Board of Directors of Guoco Group Limited ("the Company") is pleased to announce its audited consolidated net profit after exceptional items, taxation and minority interests, for the financial year ended 30th June, 1997 together with comparative figures for previous year as follows: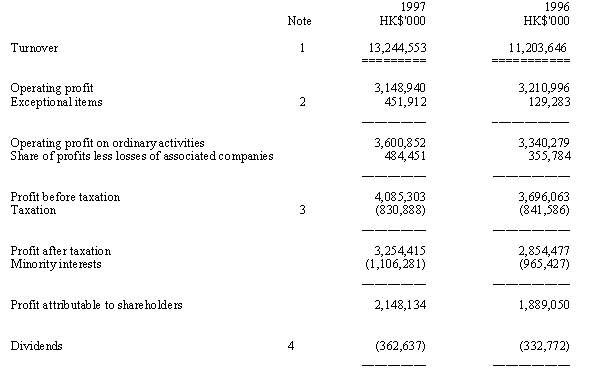 Notes:
1. Group turnover for the year includes reinsurance, brokerage, underwriting and other commission, interest income, insurance premiums earned, dividend income, rental income and net investment income, property development income and the value of goods sold. It also includes net interest income, commissions, fees and other revenues earned from banking.
2. Exceptional items

3. Taxation
Provision for Hong Kong profits tax is based on the estimated assessable profits for the year at the rate of 16.5%. Taxation for overseas subsidiaries is charged at the appropriate current rates of taxation ruling in the countries in which they operate.
The taxation charge is made up as follows:

4. Dividends

5. Earnings per share
The calculation of earnings per share is based on the profit attributable to shareholders of HK$2,148,134,000 (1996: HK$1,889,050,000) and on the 426,631,086 shares (1996: 426,631,086 shares) in issue during the year.
6. The accounts of the Company are maintained in United States dollars. The accounting figures shown above have been translated from United States dollars into Hong Kong dollar equivalents at the rates ruling at the respective financial year ends for presentation purposes only (1997: US$1=HK$7.7475; 1996:US$1=HK$7.7415).
REVIEW OF ACTIVITIES
The Group operates its core businesses through the following listed companies. The following is an overview of the performance of these companies and other subsidiaries of the Group for the past financial year:-
Dao Heng Bank Group Limited ("DHBG")
DHBG reported a consolidated net profit of HK$2,120 million for the year ended 30th June, 1997, representing a 40.8% increase over last year. Total assets were HK$125.5 billion, ranking it in the top tier of the largest locally incorporated banks in Hong Kong.
During the year under review, DHBG achieved strong organic growth in Hong Kong. In keeping with its corporate theme of "Reaching Out To You", four new branches were opened. Dao Heng Bank, Inc. ("DHBI") , a fully licensed Philippine domestic bank which is 60% owned by DHBG, has been in operation for 1½ years. With the opening of additional branches during the year, DHBI now has 9 branches in various major cities.
DHBG continues to rapidly expand its penetration of the consumer banking market. Installation of a new information technology system, Cardpac, facilitated significant growth in the cardholder base of OTB Card. A second generation Smartcard, Everyday ComPass Card, was introduced exclusively for Hutchison Telecommunications customers. A further important milestone was the issuance of the KPS Visa Card which is a combined membership and credit card for members of Hong Kong's largest chain of retail video outlets. OTB Card Company Limited was again honoured to receive an additional six outstanding achievement awards from Visa International and one from MasterCard.
A Direct Banking Division was established during the year and recently launched its first product, "Mortgage Direct". Employing the latest information and call centre technology adapted for the Asian market, DHBG continues its leadership in personal banking IT development. DHBG's Global Private Banking Division continues to strengthen its infrastructure while introducing new products and services to cater for the increasingly sophisticated needs of its customers.
DHBG's solid Treasury Division continued to expand its income from foreign exchange services offered to corporate and individual customers. DHBG successfully implemented the Real Time Gross Settlement System and expanded its market maker role in the increasingly active Hong Kong Exchange Fund Bills and Bonds market as well as a variety of Hong Kong dollar products.
First Capital Corporation Ltd ("FCC")
FCC reported an after tax profit before extraordinary items of S$136.5 million, an increase of 12% over the previous year. FCC will continue to derive its main source of income from property development projects in Singapore. FCC has replenished its land portfolio with the addition of 78,615.20 square metres of land through the acquisition of 6 plot of land, which when developed will have a net saleable area of 183,728 sq. metres.
To diversify its earnings base and to hedge against regional risk factors, FCC has purchased a 20% stake in Guoco Land Limited and a 34.62% interest in Benchmark Group Plc, a specialist central London property investment and development company listed on the London Stock Exchange. Moreover, FCC has interests in 3 development projects in India and has formed in a joint venture with Sathorn Thai Co., Ltd to undertake property investment opportunities in Thailand.
Guoco Land Limited ("GLL")
GLL was acquired by the Group in January 1997 to engage in property investment and development business in Hong Kong and the PRC. Despite its short history of slightly more than 9 months, GLL has acquired a sizeable portfolio of office space in Wanchai and Central and has co-operated with other major local property developers for the development of residential properties in the New Territories and Hong Kong. Its capital base was strengthened through a successful Rights Issue completed in July 1997, raising approximately HK$1.367 billion (net of expenses).
Guoco Holdings (Philippines), Inc. ("GHPI")
During the year under review, the Group increased its shareholding in GHPI to 36.6% via conversion of preference shares. GHPI's consolidated net income amounted to Pesos 523 million for the year, compared to Pesos 1,003 million for the previous financial year. The decline was a result of lower non-recurring gains which outweighed the enhanced profitability of the GHPI's core businesses.
GHPI acquired a 90% interest in Pepsi-Cola Products (Philippines), Inc. ("PCPPI") in line with the long term strategic objective of the Group to enter the branded food and beverage sector. This acquisition further balances GHPI's exposure to the cyclical nature of the real estate and construction related industries. PCPPI currently has 10 bottling plants nationwide, with 14 bottling lines and maintains a fleet of 800 trucks which handles 70% of its distribution. PCPPI will implement a five year plan that combines expansion and rehabilitation with the rationalization of the distribution network.
Hong Leong Credit Berhad ("HLC")
HLC achieved new heights with turnover reaching a record RM2.2 billion and pre-tax profit of RM586.6 million, an increase of 32% over the previous year. All core business divisions under HLC achieved strong and healthy growth amidst a competitive market environment.
To strengthen its balance sheet, HLC issued RM500 million nominal amount of 4.5% redeemable unsecured bonds 1997/2002 with 68,783,940 detachable warrants and completed a one for ten rights issue and a one for five bonus issue.
Other subsidiaries and associated company
The Group's insurance, stockbroking and fund management business achieved a satisfactory 59% profit growth in aggregate during the year. In particular, Dao Heng Securities recorded a 310% increase in profit after tax, benefitting from a very buoyant stock market in Hong Kong. Dao Heng Insurance reported a 32% increase in net profit after tax and launched a telemarketing group, which complements the distribution channels of the branch network of Dao Heng Bank. While the long-awaited Mandatory Provident Fund legislation was not enacted during the year, Dao Heng Fund Management still achieved respectable growth in net profit after tax. ABN-AMRO Hoare Govett Asia (Holdings) Limited, the Group's 30% associate company reported good results supported by the development of its merchant banking area which benefits from a joint arrangement with N. M. Rothschild Group.
FUTURE OUTLOOK
The immediate outlook for the region must be viewed with realistic objectivity. Regional economies are undertaking action necessary to implement the disciplines calculated to provide longer term strength. Our Group's strong financial position, solid management team and long term strategic focus augur well for the Group. However, no business entity is immune from macro-economic forces. While the Group will certainly be mindful to identify appropriate opportunities, prudence will be our guiding principle.
DIVIDENDS
The Directors are recommending to the shareholders, for approval at the forthcoming Annual General Meeting, payment of a final dividend of HK$0.60 (1996: HK$0.55) per share amounting to HK$255,979,000 for the financial year ended 30th June, 1997 (1996: HK$234,647,000). Together with the interim dividend of HK$0.25 per share totalling HK$106,658,000 paid on 15th April, 1997, the total distribution of the year will amount to HK$0.85 per share totalling HK$362,637,000 (1996: HK$0.78 per share totalling HK$332,772,000). The final dividend will be payable on 24th November, 1997 to the shareholders whose names appear on the Register of Members on 21st November, 1997.
SHARE BUY BACK
Pursuant to the Rules Governing the Listing of Securities on the Stock Exchange of Hong Kong Limited on share buy back and to the Bye-Laws of the Company, the Directors intend to seek the shareholders' approval at the forthcoming Annual General Meeting for the grant of an unconditional general mandate to repurchase shares of the Company to an extent not exceeding 10% of the issued share capital of the Company prevailing at the date of passing the resolution approving the mandate for share buy back.
A circular containing an explanatory statement on the general mandates to the Directors to repurchase shares and to issue new shares will be despatched to the shareholders as soon as possible.
PURCHASE, SALE OR REDEMPTION OF THE COMPANY'S LISTED SECURITIES
During the year, neither the Company nor any of its subsidiaries had purchased, sold or redeemed any of the Company's listed securities.
COMPLIANCE WITH THE CODE OF BEST PRACTICE
The Company has complied throughout the year with the Code of Best Practice adopted by the Company based on the guidelines set out in the Rules Governing the Listing of Securities on The Stock Exchange of Hong Kong Limited.
CLOSURE OF REGISTER OF MEMBERS
The Register of Members will be closed from 17th November, 1997 to 21st November, 1997, both days inclusive, during which period no transfer of shares can be effected.
In order to qualify for the above dividend, all share transfers accompanied by the requisite share certificates must be lodged with the Company's Branch Share Registrars in Hong Kong, Central Registration Hong Kong Limited, at Shops 1712-6, 17th Floor, Hopewell Centre, 183 Queen's Road East, Hong Kong, for registration not later than 4:00 p.m. on 14th November, 1997.
By Order of the Board
Doris W. N. Wong
Company Secretary
Hong Kong, 17th October, 1997
---
---
© Copyright 1996-2019 irasia.com Ltd. All rights reserved.
DISCLAIMER: irasia.com Ltd makes no guarantee as to the accuracy or completeness of any information provided on this website. Under no circumstances shall irasia.com Ltd be liable for damages resulting from the use of the information provided on this website.
TRADEMARK & COPYRIGHT: All intellectual property rights subsisting in the contents of this website belong to irasia.com Ltd or have been lawfully licensed to irasia.com Ltd for use on this website. All rights under applicable laws are hereby reserved. Reproduction of this website in whole or in part without the express written permission of irasia.com Ltd is strictly prohibited.
TERMS OF USE: Please read the Terms of Use governing the use of our website.