---
For immediate release
17 October 2003
GUOCO GROUP LIMITED
FINAL RESULTS FOR THE YEAR ENDED 30 JUNE 2003

GUOCO POSITIONS ITSELF FOR MARKET IMPROVEMENTS
Guoco Group (Guoco Group Limited, Stock Code: 053) announced today its final results for the year ended 30 June 2003.
FINANCIAL HIGHLIGHTS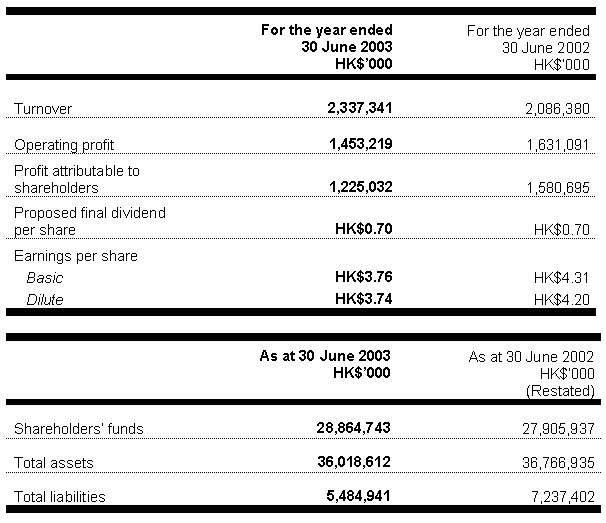 Full final results announcement can be accessed at Guoco Group's website: http://www.guoco.com.
The consolidated profit attributable to shareholders, after taxation and minority interests amounted to HK$1,225 million (2001/2002: HK$1,581 million). Basic earnings per share were HK$3.76 per share. Consolidated shareholders' funds as at 30 June 2003 were HK$28.9 billion.
Overall turnover increased by HK$251 million or 12%, mainly attributable to the increase of 51% or HK$500 million in income from sale of properties. Turnover from the treasury, fund and investment management sector and the insurance sector declined by 21% and 40% respectively.
Treasury, fund and investment management sector accounted for approximately 88% of the contribution from operations.
DIVIDENDS
The Directors are recommending to the shareholders for approval at the forthcoming annual general meeting a final dividend of HK$0.70 per share. This, together with the interim dividend of HK$0.40 per share in April 2003, will amount to a total dividend of HK$1.10 per share for the full year. Subject to shareholders' approval, the final dividend will be payable on 21 November 2003.
REVIEW OF OPERATIONS
Treasury, fund and investment management
For most of the year under review, the US economy continued to be affected by weak corporate spending, slowdown in private consumption together with the Iraqi conflict. Business sentiment was further dampened by geopolitical risks, terrorism as well as the outbreak of SARS in the region. As a result, we have decided not to undertake any major investment and have continued our cash management policy to preserve our strategic fund pool during the year. With the benefit of hindsight, the year-to-year decline in most of the major market indices appeared to support the investment stance maintained by the Group during the year. Meanwhile, the Group had taken the opportunity to expand its investment infrastructure to manage its treasury operations and investment funds.
Despite recent emerging signs of recovery in the US after the end of the Iraqi conflict, the improved confidence had yet to be translated into actual corporate spending. Business investments still remained lukewarm. Even the high-growth Chinese economy inevitably faced a SARS-induced slowdown which has subsequently recovered and resumed its steady economic growth. In Hong Kong, Closer Economic Partnership Arrangement (CEPA) with China and other initiatives undertaken by the SAR Government will help to alleviate deflation and unemployment problems that are still persisting but are now expected to be resolved over time. In fact, Hong Kong's future role as the economic hub for the Pearl River Delta is now clearly evolving.
The Investment Committee considered that the congruence between market forces and fundamentals would ultimately take place. However, it also recognizes that there are under-valued companies in any market environment. Consequently the Investment Committee directed the management to perform detailed analyses to identify markets with good potential value and to identify solid companies with good underlying intrinsic value.
The Group is well positioned with a strong balance sheet capable of supporting new investment initiatives. Going forward, we believe that more favourable opportunities will arise as a consequence of changes in global political and economic development. The Group will continue to seek new investment opportunities in order to build the foundation for sustainable growth and to continue its efforts to maximize profit and build prime value through enhancement of its existing assets and new investments.
Property division
GuocoLand Limited ("GLL") - 61.5% owned by the Group
For the financial year under review, GLL reported a net profit of S$94.2 million compared with a net loss of S$179.9 million in the previous corresponding year. GLL's net profit for the financial year was mainly due to:-
profit of S$16 million on the residential development projects in Singapore;
profit of S$25 million arising from the disposal of its interest in Century Square Holdings Pte Ltd;
net profit of S$25 million arising from the disposal of GLL's interest in a development site at Suzhou; and
unrealised mark-to-market gains of S$22 million on GLL's financial assets.
GLL also made a net provision for foreseeable losses of S$15 million on its residential development projects in Singapore.
GLL's associated companies contributed a profit of S$24.4 million. The profit contribution for the current financial year was mainly from its 34.54% associate, Benchmark Group PLC, which is listed on the London Stock Exchange and from its 40% associate, Razgrad Pte Ltd, which owns The Ladyhill, a residential development project in Singapore.
During the financial year, GLL had been actively divesting most of its non-core and non-strategic assets, including its 97.7% interests in its insurance subsidiary and its 9.6% interests in Overseas Union Enterprise Limited.
Guoco Properties Limited ("GPL") is GLL's property development, investment and management flagship in China. The property development projects it currently undertaken are in the key gateway cities of Shanghai and Beijing. Central Park, a prestigious residential project located parallel to Huai Hai Middle Road, Shanghai, is expected to be launched for sale around early 2004. In May 2003, GPL entered into an agreement to form a joint venture for the development of a land parcel at the Fifth Mile of Zhenwumiao in the Xicheng district in Beijing. The area of the land parcel is approximately 13,000 sq. m. while the gross saleable area is estimated to be approximately 47,000 sq. m. It is primarily for residential development and can accommodate a condominium of up to 15 storeys with clubhouse and carpark facilities.
Financial Industry Group
Hong Leong Credit Berhad ("HLCB") - 25.3% owned by the Group
The HLCB Group has achieved a modest growth of 2.4% in profit before tax to reach RM802.7 million compared with RM783.8 million in the last financial year.
The banking and finance division continued to contribute significantly to the HLCB Group's earnings and reported a profit before taxation of RM801.9 million, a 12.9% increase as compared with RM710.1 million in last financial year. This increase was mainly due to the HLCB Group's ongoing control on operating costs and prior year adjustment relating to change in accounting policies for dealers' handling fees and income taxes.
The insurance division registered a lower profit before tax of RM82.5 million compared with RM98.5 million in the last financial year. This reduction was primarily due to lower investment income as a result of weak market sentiment in the KLSE for most part of the year.
The stockbroking division recorded a higher loss before taxation of RM29.7 million compared with a profit before taxation of RM3.8 million in the last financial year. This was principally due to the significant write-offs of property and equipment as part of its cost rationalisation exercise and provisions made for doubtful debts.
The HLCB Group's share of profit before tax in the property division amounted to RM8.1 million compared with RM17.5 million in the last financial year.
Other financial services subsidiaries in Hong Kong
Our financial services subsidiaries comprising Dao Heng Securities Limited, Dao Heng Fund Management Limited and Dao Heng Insurance Limited, continued to face a challenging operating environment.
The overall performance of the Hong Kong stock market has been clouded by the Iraq conflict, the outbreak of SARS and political issues in Hong Kong. The generally poor investment sentiment, worse-than-expected corporate earnings and the deteriorating unemployment rate had adversely affected the turnover of the stock market. Furthermore, the deregulation of brokerage commission rate with effect from 1 April 2003 has intensified market competition.
Decreasing subscription and increasing redemption from clients, coupled with the lower net asset value due to market performance contributed to the reduction of asset size for most of the unit trust funds in the market. Mandatory Provident Fund is the only growth area, due to the regular monthly contribution inflow.
The financial services companies had taken steps to reposition their business dynamics to cope with the structural change of their respective markets and adopted strategic moves to shift in focus to solidify their trusted positions with their niche client groups. Various exigent rationalisation measures including right-sizing initiatives and enhancement of information technology systems had contributed to significant cost saving and improvement in productivity. Extensive effort has also been dedicated to develop new distribution channels for strategic sectors with opportunities and potentials. These companies have therefore positioned themselves to work towards improvement or a return to profitability on the expectation of better market conditions ahead.
OUTLOOK
China's economic importance and status have gained global recognition following its successful accession to the World Trade Organisation. It will be an engine of global growth and a contributor to global prosperity. With the CEPA, Hong Kong can play a more significant role to accelerate economic development together with China. While general market conditions are becoming more encouraging, caution still prevails as global economies remain challenging. We believe they will continue to undergo fundamental corrections. The Group intends to capitalize on this window of opportunity to seek a variety of value investment options that will sustain the Group's growth and ensure the creation of superior shareholders' value.
Full final results announcement can be accessed at Guoco Group's website: http://www.guoco.com.
- END -

Guoco Group Limited is a Hong Kong listed company (Stock Code: 053), whose subsidiaries and associated companies are principally engaged in treasury, fund and investment management, stock and commodity broking, investment advisory, insurance, banking, financing and merchant banking as well as property development and investment.

Contacts :
Ms. Stella Lo
Group Company Secretary
Tel: ( 852 ) 2283 8710
Fax: ( 852 ) 2285 3210
E-mail: stella.lo@guoco.com
---
Source: Guoco Group Limited
---
---
© Copyright 1996-2019 irasia.com Ltd. All rights reserved.
DISCLAIMER: irasia.com Ltd makes no guarantee as to the accuracy or completeness of any information provided on this website. Under no circumstances shall irasia.com Ltd be liable for damages resulting from the use of the information provided on this website.
TRADEMARK & COPYRIGHT: All intellectual property rights subsisting in the contents of this website belong to irasia.com Ltd or have been lawfully licensed to irasia.com Ltd for use on this website. All rights under applicable laws are hereby reserved. Reproduction of this website in whole or in part without the express written permission of irasia.com Ltd is strictly prohibited.
TERMS OF USE: Please read the Terms of Use governing the use of our website.