CEC International Holdings Limited
(Incorporated in Bermuda with limited liability)
---
[For immediate release]

CEC INTERNATIONAL POSTS OVER TWO-FOLD INCREASE IN
PROFIT ATTRIBUTABLE TO SHAREHOLDERS
FOR 3-MONTHS ENDED JANUARY 31, 2000

Financial Summary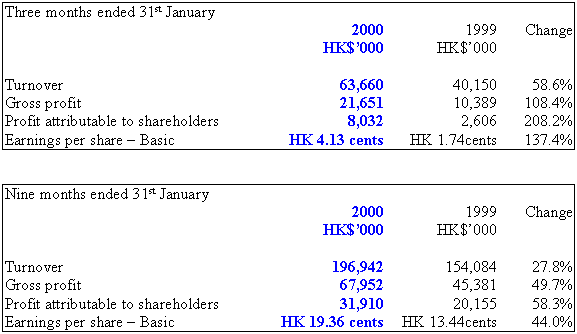 [14th March, 2000, Hong Kong] - CEC International Holdings Limited ("CEC" or the "Group"; stock code: 759) announced today its unaudited results for the three months and nine months ended January 31, 2000.
For the three months ended January 31, 2000, CEC reported a more than two-fold increase in profit attributable to shareholders to HK$8,032,000 compared with the same period in the previous year. The Group's turnover jumped 59% during the period to approximately HK$63,660,000, while profit attributable to shareholders surged 208% to HK$8,032,000. The gross profit margin and net profit margin also rose to 34% and 13%, respectively.
For the nine months ended January 31, 2000, the Group's unaudited turnover and profit attributable to shareholders were approximately HK$196,942,000 and HK$31,910,000 respectively, representing an increase of 27.8% and 58.3% respectively as compared to the corresponding period in 1999.
CEC, which specializes in the design, development, manufacture and sales of a wide range of coils for I.T., audio/visual and telecommunication products use, purchased two new production lines during the period for manufacturing various models of chip inductors in Singapore. The new production lines will double CEC's production capacity in Singapore and cater for the vibrant growth of the telecommunication and IT industries in the region. The new production lines are scheduled to be operational later this month and the whole manufacturing facilities in Singapore will be relocated to accommodate the expansion.
CEC's Chairman Mr. Lam Wai Chun noted, "following our Company's successful listing on The Stock Exchange of Hong Kong Limited in mid-November last year, we have accomplished a new financial frontier that will widen the Group's horizon for growth and expansion."
In January 2000, the Group acquired a land lot of approximately 16 acres, with a cost of approximately HK$2,800,000, in the vicinity of its Zhongshan facilities for the manufacture of ferrite cores-manganese zinc series.
The Asian economic recovery in the period also benefited the Group. The Group's new production facilities for radio frequency coils, intermediate frequency coils, toroidal transformers and high quality fixed inductors in Zhongshan commenced pilot run production. The total cost of investment of the above machinery was approximately HK$21,000,000.
The production facilities for ceramic saggers, which are used for manufacturing ferrite cores, were in pilot run, and are expected to be operational in March 2000.
Looking forward to the 21st century, the Group will do its best to capitalize on the current wave of various information technology developments. The Group's research and development centre in Tokyo will work more closely with customers to capture opportunities arising from the rapid development of Local Area Networking (LAN), wireless broadband communications, and interactive voice, data and video applications.
CEC will also develop "design-in" components of information technology products such as LAN hubs, routers and switches, high-speed personal computer data interfaces, cable modems and power converters. In addition, the Group has planned to invest into new production facilities for the manufacture of ferrite cores-manganese zinc series to manufacture line filters, EMI filters and switching mode power supply (SMPS), which are indispensable components in computers, telecommunication equipment and household electrical appliances.
Entering into the Internet Era, the Group is also developing e-commerce functionality for its "on-line sales" system and product specification simulation system. System testing is underway and positive responses from sample customers have been received. The Group will also extend the system to provide platforms for its over 6,000 business partners, customers and suppliers for business to business solutions in the electronic component field.
"Besides pursuing opportunities in the technology sector, CEC will also explore market potential from overseas markets and establish a wider customer base. The Group will actively consider the feasibility of setting up new representative offices and manufacturing facilities around the world, in a bid to exploit the unique competitive edges, such as technology and human resources in different countries." Mr. Lam concluded.
- end -
Corporate Information:
CEC is a reputable coil manufacturer, engaged in the design, development, manufacture and sale of a wide range of coils. CEC coils can be commonly found in IT products, telecommunication products, home appliances and audio-visual products, etc. Accredited by the recognition of ISO 9001 in 1995, the Company has more than 400 engineers and quality control staff for the assurance of product quality. CEC has been a listed company on The Stock Exchange of Hong Kong Limited since November 1999.
For more information, please contact:
iPR Asia Ltd.
http://www.iprasia.com
Daisy Wong/ Ellen Zee
Tel: 2136 6178/ 2136 6184
Fax: 2136 6118/ 2136 6068
Email: info@iprasia.com.hk
---
Source: CEC International Holdings Limited
---
---
© Copyright 1996-2019 irasia.com Ltd. All rights reserved.
DISCLAIMER: irasia.com Ltd makes no guarantee as to the accuracy or completeness of any information provided on this website. Under no circumstances shall irasia.com Ltd be liable for damages resulting from the use of the information provided on this website.
TRADEMARK & COPYRIGHT: All intellectual property rights subsisting in the contents of this website belong to irasia.com Ltd or have been lawfully licensed to irasia.com Ltd for use on this website. All rights under applicable laws are hereby reserved. Reproduction of this website in whole or in part without the express written permission of irasia.com Ltd is strictly prohibited.
TERMS OF USE: Please read the Terms of Use governing the use of our website.